Papa Vinyard here, and I got somethin' for ya...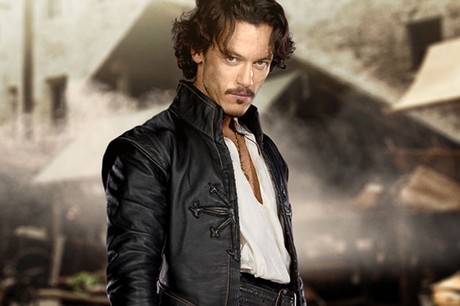 Since Legendary partnered up with Universal after their public split from Warner Bros., everyone's been wondering what kind of films they'd be working on through their new distribution deal. Now, we have word via Variety that the first project that Legendary will co-produce with Universal will be Gary Shore's update of DRACULA, starring FURIOUS 6 villain (and THE HOBBIT's Bard the Bowman) Luke Evans. The film, which also features Dominic Cooper, Samantha Barks, and Charlie Cox, is already in production, but it seems that Legendary has jumped on as a co-financier to get it across the finish line for its release date next August.
Thomas Tull's company has made a name for itself producing genre fare for WB like PACIFIC RIM, WATCHMEN, the upcoming GODZILLA, and, of course, the BATMAN and SUPERMAN films. Without the DC library to plunder, it seems like a natural move that Tull's next step would be to tackle the Universal Monsters lineup, and DRACULA is as good a place to start as any. The vampire thing is still fairly in, and DRACULA's a myth that both men and women, young and old can enjoy (as long as they don't go too far with the revisionism, lest we get a DRACULA 2000 situation on our hands). From there, we could get a reboot of FRANKENSTEIN, or CREATURE FROM THE BLACK LAGOON, or hell, even another WOLF MAN. Me? I'm holding out hope for the MONSTER SQUAD remake, directed by Shane Black, that throws all them bad boys together in a no-holds-barred child-centric action movie a la ATTACK THE BLOCK (I can dream, can't I?).
The Variety article also mentions that Legendary could very well attach itself to JURASSIC PARK 4, gearing up to shoot next year. Also seems logical, and maybe they can inject the momentum into the film to finally get it in front of cameras after 12 years.
On top of that, Legendary is developing the WARCRAFT and MASS EFFECT movies in-house. In love with these guys yet?
DRACULA breaks out the chompers on August 8th, 2014.
-Vincent Zahedi
"Papa Vinyard"
vincentzahedi@gmail.com
Follow Me On Twitter