Ahoy, squirts! Quint here with today's Behind the Scenes Pic!
Now I've never seen this movie, but when I stumbled across the image I knew I had to use it in this column. Nevermind that I'm a big Paul Newman fan anyway, but the image of him goofing off with Louis Armstrong and Duke Ellington made me laugh.
It's from a 1961 picture called Paris Blues in which Newman starred alongside his wife Joanne Woodward and Sidney Poitier. Paris Blues was his followup to The Hustler and was set, appropriately enough, in France which was experiencing a big Jazz explosion at the time.
Now I have a new Paul Newman movie to dig up and you guys have a sweet BTS picture. Win win!
Thanks a ton to Decaying Hollywood Mansions for the image. Enjoy!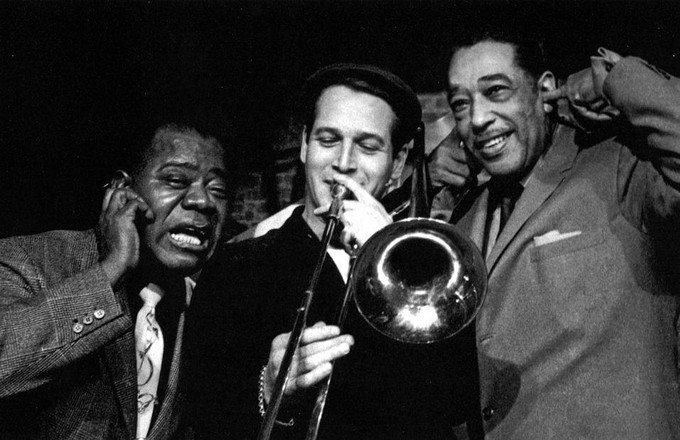 If you have a behind the scenes shot you'd like to submit to this column, you can email me at quint@aintitcool.com.
Party on, tomorrow's behind the scenes pic!
-Quint
quint@aintitcool.com
Follow Me On Twitter
I've got a lot of maintenance work to do on the previous BTS articles, but you can visit two pages worth of images (beware of some broken links thanks to the last server shift): Click here for Page One and Click here for Page Two!