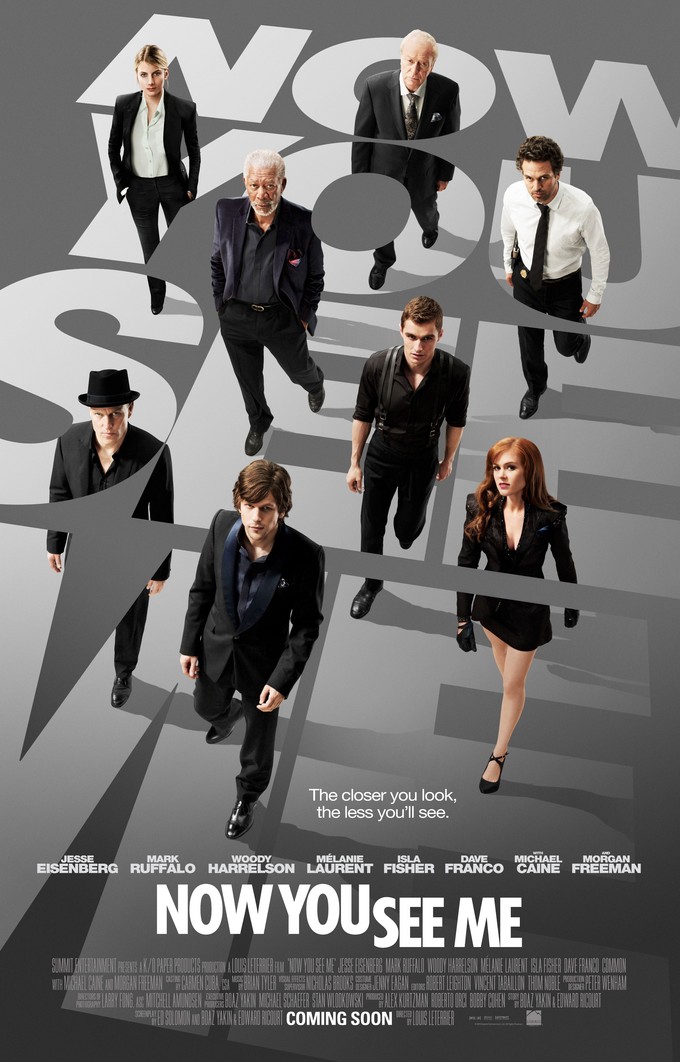 I rather enjoyed NOW YOU SEE ME this Summer, director Louis Leterrier's slick caper/heist film centering around a group of ultra-illusionists and best-of-the-best misdirectors. Loved the picture's energy...loved the colorful and vivid photography by Larry Fong and Mitchell Amundsen...loved Brian Tyler's propulsive score. I also dug its poster, seen above.
This said, I don't agree with its every move and felt the ending...didn't quite come together. The picture left me wondering...when word of its impending sequel rolled around...exactly how the hell they were gonna continue the story in a way which was organic and not crass.
Turns out, such apprehension was completely unnecessary. THIS interview with Leterrier over at ComingSoon reveals that the tale was always intended to be one long story, and that an original ending designed to segue into Part 2 was dropped...but will be reinstated in the upcoming DVD/Blu-ray release of the film.
We had a scene that we kept and when Lionsgate and Summit said, 'Yeah, let's do a sequel,' I said, 'Okay let's put it on the DVD and do the longer cut. It's after the credits, but I was very conscious of not jinxing it.
[EDIT]
It was always at least a diptych, two movies, to tell one long story, so yeah, I'm very much involved in it.
No word yet on when the NOW YOU SEE ME sequel will finally emerge, although the CS piece does confirm that Leterrier will return to helm the next go-round - and that story development is now very much underway.
-------------------
Glen Oliver
"Merrick"
- e-mail
- Twitter
- Google +