***NOTE: THE CONCEPT ART BELOW HAS ACTUALLY BEEN PROVEN TO BE FAKE/FAN GENERATED - SORRY ABOUT THAT, THOUGH - LOTS OF CONFUSION RIGHT NOW REGARDING CERTAIN ELEMENTS OF THIS FILM AND MISTAKES QRE BOUND TO HAPPEN. THANKS TO THE FOLKS WHO HELPED US STRAIGHTEN THE MATTER OUT!! ***
There's a buncha TRANSFORMERS 4 material sneaking onto The Net over the past few days. Here's a round-up of some highlights...
THIS piece from Seibertron.com reveals a variant of the film's logo which appears features claw marks of some sort. Might these sugest the Dinobots we've heard rumored to apear in this film? Siebertron posted two images of a hot TRANSFORMERS 4 crewperson rocking the logo - one is zoomed in (on the wrong thing).
Meanwhile, TheRaginNation has bagged some concept art from the film. Here'a a look at Drift...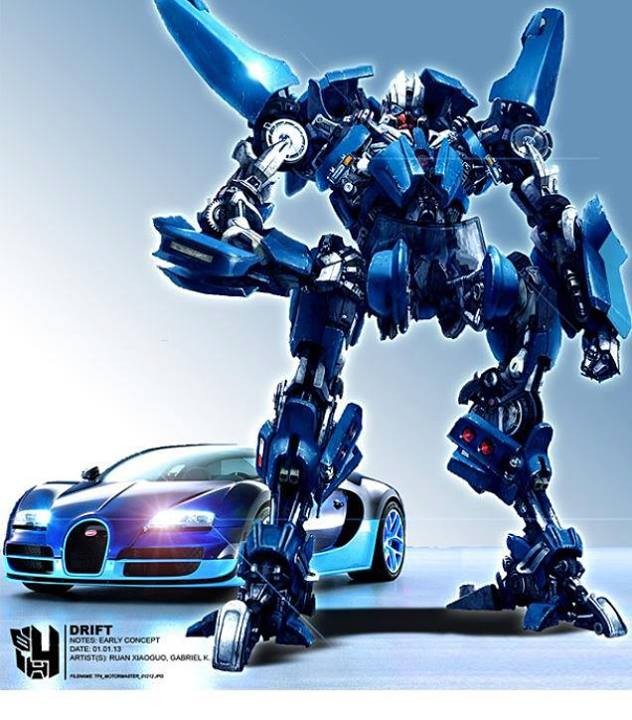 ...and concept pieces for Motormaster can be found HERE, and "Texas Chase" can be found HERE.
There are also some YouTubes from the film's shoot making the rounds. One particularly interesting moment in this one features propaganda for Autobots!?
And here's the requisite dose of Bayhem via ComingSoon...
The next, yet to be be fully titled TRANSFORMERS movie will arrive in theaters next Summer.
-------------------
Glen Oliver
"Merrick"
- e-mail
- Twitter
- Google +