Cool News
Check out this Poster for Ti West's THE SACRAMENT!
Hey guys! Horrorella here...
EW premiered the poster for Ti West's (HOUSE OF THE DEVIL, THE INNKEEPERS) new film THE SACRAMENT - check it out below.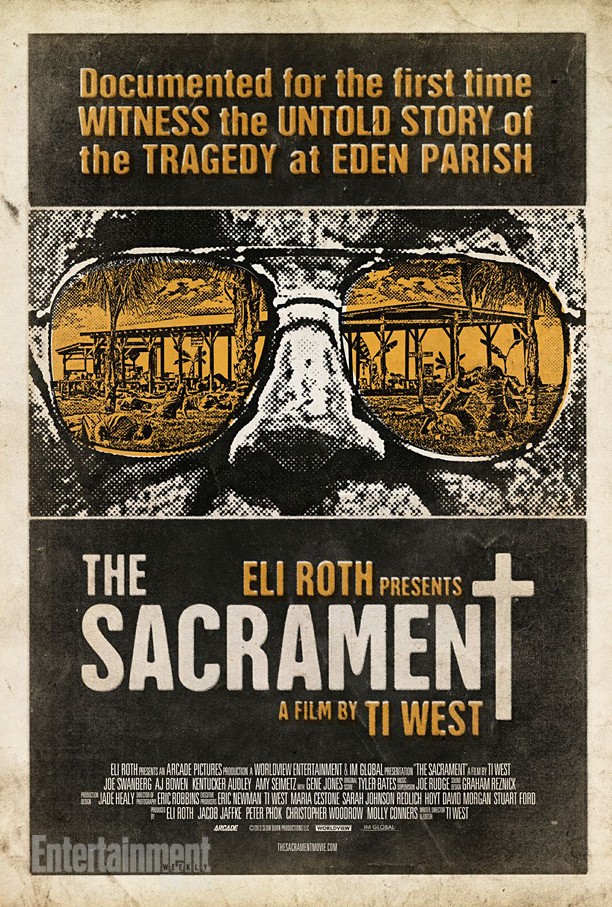 The film will follow three journalists played A.J. Bowen (HOUSE OF THE DEVIL, THE SIGNAL, YOU'RE NEXT), Joe Swanberg (A HORRIBLE WAY TO DIE, YOU'RE NEXT) and Kentucker Audley (V/H/S, AIN'T THEM BODIES SAINTS) as they visit a relative (Amy Seimetz - THE SIGNAL, YOU'RE NEXT, UPSTREAM COLOR) at a religious commune led by the mysterious Father, played by Gene Jones (NO COUNTRY FOR OLD MEN). Needless to say, I'm sure things go south pretty soon after they arrive.
The story was modeled after the Jonestown cult from the late '70's. West stated:
Jonestown is something that I've always been really fascinated by, because I don't think a lot of people understand it...The people who killed themselves were not mindless cult people in robes acting like brainwashed monsters. I wanted to depict a quote cult that wasn't full of psychos They are people that you're like, 'Well, I don't want to live there, but I understand why they do. And let them do whatever they want.' Of course, things go wrong, but I think that that understanding of the mentality is very important and I think it's overlooked in most movies, especially horror movies, because everyone wants to get to the crazy sh-t.
It's an interesting take on the subject, and one that I haven no doubt West will handle well, given his interest and skill in character exploration. While his films tend to divide fans, I have always found his work to be interesting and well-developed. I am excited to see what he will do with this subject.
THE SACRAMENT will debut next week at the Venice Film Festival, and will make its North American premiere next month at the Toronto International Film Festival.
Follow me on Twitter