Cool News
Drafthouse Films' THE ACT OF KILLING Will Show For Free In Indonesia!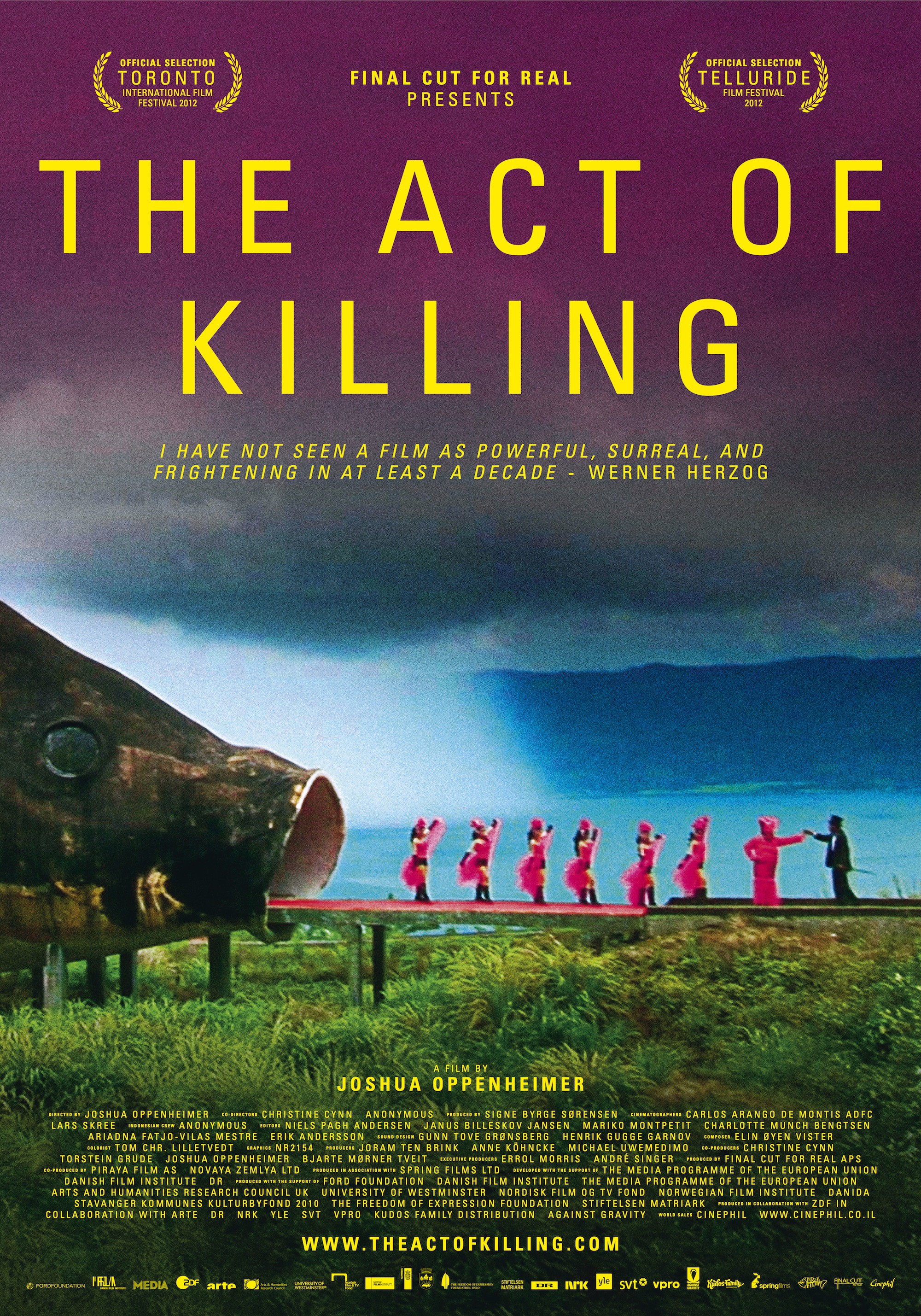 Nordling here.
If I see a movie as good as THE ACT OF KILLING the rest of this year, I'll be very happy indeed. It's stunning cinema, tough to watch but has real power in it; power enough to bring peace to a broken country, if people let it. Indonesia is still feeling the effects of that horrible genocide that began in 1965, and the more people see this film and bring light to those monstrous deeds and the men who committed them, the more Indonesia can heal from their terrible past.
Because of the historical nature of this film, it feels only right that Drafthouse Films, along with VICE and digital platform VHX, as well as the filmmakers themselves, will be bringing this movie to Indonesia free of charge on September 30th, the anniversary of the beginning of the genocide. Granted, it won't be in theaters - Indonesia still bans movies dealing with human rights abuses. Instead, they will make it available for free download in that country. There have been many screenings already, but the Indonesian government cracks down on them, some with various paramilitary groups still operating in the country. But Indonesians have the right, and the will, to understand what has truly happened in their history.
THE ACT OF KILLING is an amazing movie. I'm extremely honored to have talked to Joshua Oppenheimer about it. And people need to see it. These dead deserve your attention. You need to hear their story. Here's the press release:
*** FOR IMMEDIATE RELEASE ****

DRAFTHOUSE FILMS, VICE, VHX & THE FILMMAKERS TO DELIVER 'THE ACT OF KILLING'

FREE TO PEOPLE OF INDONESIA

To Help Spur Social Change, The Year's Most Acclaimed Documentary

Will Be Made Available For All Of Indonesia

August 27th, 2013 - It is announced today that Award-winning and critically acclaimed documentary film The Act Of Killing will be made available for free to the people of Indonesia in perpetuity, through the joint efforts of the US distributor Drafthouse Films, global media company VICE, integrated digital platform VHX, Danish film production company Final Cut for Real ApS, and the Anonymous crewbehind the film.

Directed by Joshua Oppenheimer, executive produced by Werner Herzog and Errol Morris, and produced by Signe Byrge Sørensen, The Act Of Killing ventures deep into the imagination of former Indonesian death squad leaders, who are challenged to reenact their real-life killings in the style of the American movies they love; including classic Hollywood crime scenarios and lavish musical numbers.

Beginning on September 30th - the anniversary of the start of the 1965-66 genocide in Indonesia - the film will be available as a free digital download geo-blocked exclusively for Indonesians throughout the country via www.actofkilling.com.

###

Oppenheimer's film uniquely examines the Indonesian genocide of 1965-66, where an estimated 1,000,000 people lost their lives, and the contemporary regime of corruption and impunity the unrepentant former executioners inhabit. Since its completion, The Act Of Killing has ushered a resurgence of nationwide attention to the atrocities of decades past, as well as a public debate about how impunity for past atrocities underpin a present-day climate of corruption, thuggery, and fear.

Because the Indonesian government typically bans films dealing with human rights violations, a traditional theatrical release for The Act Of Killing is not possible: a ban would become an excuse for paramilitary groups to attack screenings physically - and with impunity. This has motivated local tastemakers, human rights activists and ordinary Indonesians to organize over five hundred underground screenings of the film in 95 cities, with venues including a rice field where locals gathered around a mass grave of genocide victims to watch the film together on a tube television.

###

"The history of the 1965 genocide belongs to the people of Indonesia," says Director Joshua Oppenheimer, "and for that reason it has always been our intention to give the film to all Indonesians. The Act of Killing was made in collaboration with over 60 anonymous Indonesian crewmembers. We worked together for seven years to open a space in which all Indonesians can finally discuss, without fear, how their nation's traumatic past underpins a regime of corruption and impunity. We hope this film will help the struggle for truth, reconciliation, and justice."

"The most important audience for The Act of Killing is the Indonesian audience," says Producer Signe Byrge Sørensen. "Together with our anonymous Indonesian partners, we have already reached many Indonesian viewers, and a vital national debate has begun. Making the film available to all Indonesians with internet access will dramatically broaden this debate, and in this way benefit the ongoing struggle for truth, reconciliation and justice in Indonesia."

"Joshua Oppenheimer's film is a groundbreaking work that demands to be seen," says Drafthouse Films Founder/CEO Tim League, "and its most essential audience is the people of Indonesia. We are deeply impassioned to assist in the quest to break the government's near 40-year silence of these atrocities."

"While in Indonesia shooting another documentary, VICE producers happened on a screening of The Act of Killing and were deeply affected," said Eddy Moretti, Chief Creative Officer, VICE Media. "When I finally saw the film myself, I was also deeply affected. It's that rare kind of film: you marvel at its form, its structure, you are drawn into the emotional and cultural complexities, but all the while you can't stop thinking about how truly evil and disgusting humans can be to one another."

"It is absolutely critical that the atrocities depicted in The Act of Killing be exposed and that the people of Indonesia have the opportunity to see this powerful film," says Adam Klaff of VHX. "We are excited to partner with Drafthouse, VICE, and the filmmakers, using the power of digital distribution to make The Act of Killing available to all in Indonesia who want to see it. "
Nordling, out.