Ahoy, squirts! Quint here with today's Behind the Scenes Pic!
Happy Monday, everybody. I have a sweet picture for you today... It's bloody, gross and a little awful... just like most Mondays. So, I figured it was apt.
Here we take a look at the making of the iconic House of Blue Leaves sequence from Quentin Tarantino's Kill Bill V.1. Some of you may be wondering what The Groom is doing hanging around a decapitated Crazy 88 member. That's Chris Nelson, who did indeed play the hapless guy that was trying to marry Uma Thurman before Bill fucked that all up, but his first job is practical effects and he's one of Greg Nicotero's top guys at KNB.
You can also see the blood pumping system of tubes, hoses and, if I'm not mistaken, an old school fire extinguisher in the background. That makes for a great over the top gusher spray.
I love it when great movies have that one scene you can feel yourself getting excited to see again as you rewatch and The House of Blue Leaves is certainly that scene for me in Kill Bill. Here's the bloody picture. Enjoy!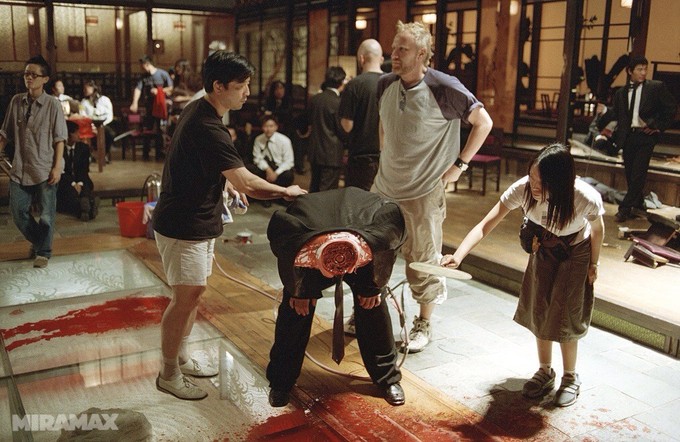 If you have a behind the scenes shot you'd like to submit to this column, you can email me at quint@aintitcool.com.
Tomorrow's behind the scenes pic has a rather disturbing case of split personality.
-Quint
quint@aintitcool.com
Follow Me On Twitter
I've got a lot of maintenance work to do on the previous BTS articles, but you can visit two pages worth of images (beware of some broken links thanks to the last server shift): Click here for Page One and Click here for Page Two!