Papa Vinyard here, and I got somethin' for ya...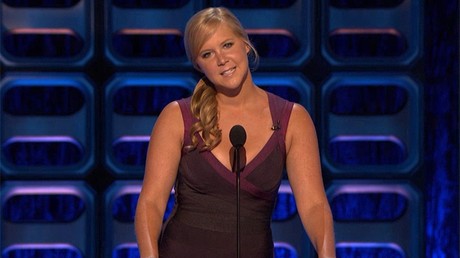 Deadline has reported that Amy Schumer will be following the footsteps of Kristen Wiig, Seth Rogen, Steve Carell, and others, and will be getting her own Judd Apatow-produced star vehicle for Universal. Apatow is helping her write the script, as he did for Wiig and BRIDESMAIDS, but there's no word yet as to the premise or the character Schumer will be playing. If it is anything like her stand-up persona, she'll probably be a confident, slightly-condescending lady with a sense of deadly honesty about certain hangups and a frightened guardedness about others.
Amy Schumer has shown a more vicious side on the roasts she's appeared on, her standup material, and her recent hit Comedy Central show INSIDE AMY SCHUMER than her fellow Apatow-ers are usually known for. While the Apatow movies are usually defined by "frat-boy" humor or, in the case of BRIDESMAIDS and THIS IS 40, a more vaguely sweet, melancholic look at life/aging, Schumer usually goes for the jugular in her comedy. She'll casually toss out jokes about rape, genocide, anorexia, and racism, doing it in such a way that not only do you laugh, but you don't find her mean-spirited for her efforts. It's apparent watching her work that she seeks a kind of catharsis with her ribald humor that many of her female (and male) contemporaries just aren't courageous enough to attempt. If she can translate that fearlessness, honesty, and aversion to schmaltz that she's exhibited as a stand-up, I could see her easily becoming a breakout star, as long as Apatow doesn't attempt to soften up her image in her first starring role. And I don't think it's out of line to throw out the idea for them to get comedienne-friendly Paul Feig to try and work his Wiig/Melissa McCarthy magic as the director.
Fingers crossed that Schumer writes in a role for ex-boyfriend (and fellow ribald comic) Anthony Jeselnik!
-Vincent Zahedi
"Papa Vinyard"
vincentzahedi@gmail.com
Follow Me On Twitter