Hey guys! Horrorella here...
TONS of interesting GUARDIANS OF THE GALAXY info for you today, much of it coming directly from Marvel President, Kevin Feige. In a recent interview with Empire Magazine (via Comicbook Movie), he revealed some interesting details pertaining to just how GUARDIANS fits into the grand scheme of Marvel's release plan and how it will tie in with the already-established storylines.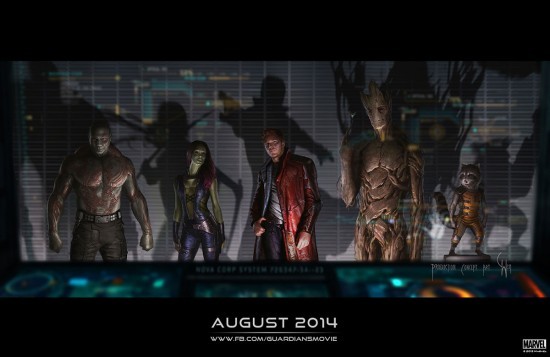 When asked weather GUARDIANS OF THE GALAXY takes place at the same time as the other Phase Two stories, he responded:
It's not exactly revealed what year or month it is in relation to the other Phase Two films. But yes, it's the same time.
So everything is going to be relatively close together in the master timeline. When asked how exactly GUARDIANS will connect to the other Phase Two films:
Certainly more than the others. We've already said that Thanos plays a part in it and is a character in it. That in and of itself should tell you it's connected to the other worlds.
So while Thanos will definitely be returning to play a role in the events of GUARDIANS, he will not be the main villain. That honor will be bestowed upon Lee Pace:
Ronan The Accuser is very much the main bad guy. And Thanos is lurking above it all. You will learn more about Thanos in Guardians, for sure. Certainly you'll get more than the one turn around and smirk. You'll get much more than that!
From this, it sounds like GUARDIANS will serve partially as a vehicle to further develop Thanos before he finally gets unleashed at a later juncture.
Wicked. And to make your day even more exciting, head over to Cosmic Book News and check out some awesome set photos that feature Michael Rooker looking totally badass in his Yondu makeup.
Follow me on Twitter