Papa Vinyard here, and I got somethin' for ya...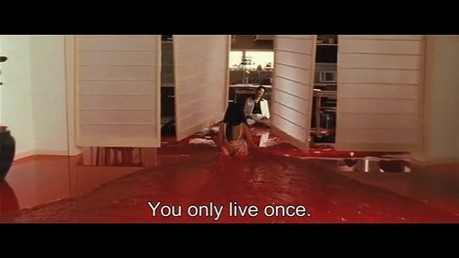 According to ScreenDaily.com, Drafthouse Films' latest acquisition is the Japanese film WHY DON'T YOU PLAY IN HELL? by director Sion Sono (SUICIDE CLUB). That's Sono's quote about the film in the headline, and the film looks to be a blood-soaked homage to the world of cinema. Check out the Bruce Lee tracksuit-wearing dude in the trailer!
There seems to be a KILL BILL level of bloodletting going on here, a toothpaste commercial plays a huge part in the narrative, and there's a group of renegade filmmakers called the Fuck Bombers. I'm there. Another good buy from Tim League and the Drafthouse folks. Now let's wait for the word when it plays Fantastic Fest in a month.
WHY DON'T YOU PLAN IN HELL? breaks out the 9 mils and the 35mm at Venice (which starts next weekend) and will make its North American premiere at TIFF next month.
-Vincent Zahedi
"Papa Vinyard"
vincentzahedi@gmail.com
Follow Me On Twitter