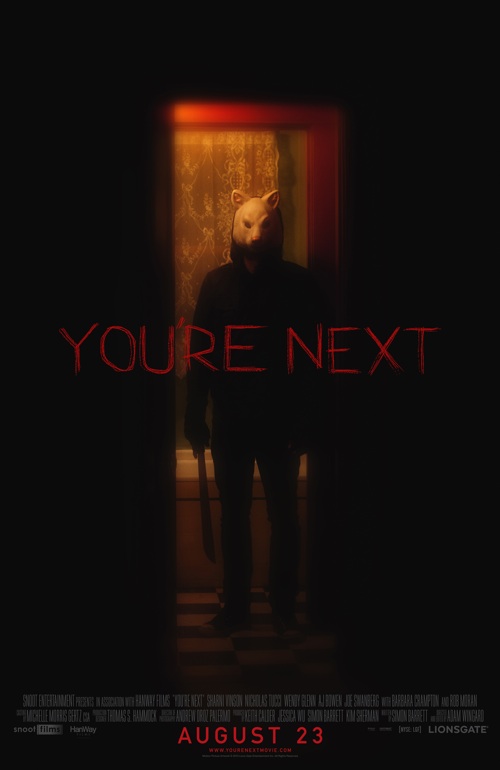 Beaks here...
Listed below are the lucky folks who will be joining me for Adam Wingard and Simon Barrett's YOU'RE NEXT at The Grove in West Hollywood (189 The Grove Dr., 90036) this Thursday night (8/22). The film will start promptly at 7:30 PM, so please arrive at the theater on time and clothed. Names are listed alphabetically by first name, including guests. If you don't see your guest's name, please shoot me an email (mrbeaks@gmail.com).
As I'd like to ensure a packed house, I'm comfortable adding more names to this list. Accounting for the typical number of no-shows, I'm confident I'll be able to accommodate you. So feel free to shoot me an email (mrbeaks@gmail.com) anytime before Noon PT tomorrow (8/22), and I'll add you to the list. Again, if you do get turned away, I will make sure you have a reserved seat at the next AICN screening.
Thanks to everyone who responded! See y'all tomorrow!
Adam Brook
Adolfo Valenzuela
Allan Traylor
Andrew Kasch
Andrew Kent
Andy Sharp
Annette Kasch
Anthony Silva
Beatriz Polish
Ben Winston
Brandon Prell
Brent Aragon
Bret Polish
Brett Buckalew
Brett Panziera
Brian McQuery
Brittany Sharman
Caitlin Towne
Chelsea Kadovitz
Chris Boudry
Chris Dowling
Chris Kartje
Chris Rubin
Cindy Garay
Colin Armstrong
Connor Cummins
Craig Deshenski
Crystal Elliott
Daniel Pena
Danielle Duff
David McElroy
David Rabinowitz
David Rosiak
Devin Wilson
Diego Perez
Eddie Jaszek
Eddie Ramirez
Eddie Ramirez's guest
Eddy Shao
Elly Westaway
Erik Phelps
Eva Vennari
Evette Iniguez
Gensho Tasaka
Gricel Sahagun
Gus Kriger
Jake Scherzer
James Kreisberg
Janet Rivas
Jason Goldberg
Jason Onda
Jean-Paul Campana
Jeff MacClay
Jeffrey Laub
Jen Pinzon
Jessica Hill
Jessica Myers
Joe John
John Culver
Jonathan Crow
Jonathan Green
Jonathan Tokutake
Jordan Johnson
Jordan Vogeney
Jorge Aparicio
Jose Medina
Juan Amador
Kathleen Green
Kaya Dzankich
Kaylon Hunt
Keara Sexton
Keith Gibson
Ken Balan
Kevin Brennan
Kevin Buckalew
Kevin Knight
Kevin Mottashed
Kevin Patrick
Kim Steele
Kimberly Richey
Krista Parker
Lauren Nepa
Louis Torres
Loyd Artavia
Luis Rodriguez
Mac Curlin
Mario Navarro
Mario Quimiro
Mark Cappelletty
Matt Green
Matt Green
Matt Mills
Matthew Chernov
Michael Cassidy
Michael Dougherty
Michael Jaszek
Michael Zlotnicki
Mike Manalo
Mikel Samson
Morgan McStotts
Natalie Armstrong
Nathan Chesshir
Norman Mayers
Pat Browe
Paul Silva
Pauline Barrientos
Peter Grogan
Rachel Ng
Ralph Lowe
Renzo Davila
Richard Garry
Richard Wold
Robert Mills
Robert Peary
Robert Reed
Robert Rowe
Ronald Mare Jr.
Rudy Coby
Ryan Beeman
Ryan Kugler
Ryan Serey
Sam Young
Samantha Berry
Santiago Cadena
Scott Polisky
Scott Prell
Scott Rubin
Shaun Rao
Stan Farrow
Stephanie Opella
Steven Michaels
Steven Munson
Sun Ho Pak
Taylor Lowe
Tim Granlund
Tommy McConnell
Umair Aleem
Victoria Emerick
Victoria Peccolo
Wes Black
William Kreisberg