Papa Vinyard here, and I got somethin' for ya...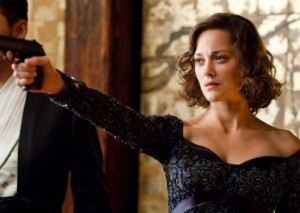 Justin Kurzel's MACBETH, said to be a faithful adaptation of Shakespeare's classic play (period setting and all), is gearing up to shoot in January, and he had lined up Michael Fassbender and Natalie Portman to play the titular couple. Now, we have word from Deadline that Portman has been replaced by Academy Award-winner Marion Cotillard to play the legendary manipulator, and I have to say the casting seems pretty on. Cotillard has played unstable and/or nefarious characters in the past (*Spoiler* INCEPTION, THE DARK KNIGHT RISES *end spoiler*), and this role is the classic apex of female villainy, like RICHARD III is for men. She is perfect at seeming benign while holding back some seriously funky demons, and I can already see her twisting Fassbender's confused ruler around her finger.
Now, all they have to do is to get Christopher Walken to play Macduff, and we're in business.
MACBETH beings shooting in January 2014, and will probably hit theaters holiday season 2014, at the earliest.
-Vincent Zahedi
"Papa Vinyard"
vincentzahedi@gmail.com
Follow Me On Twitter