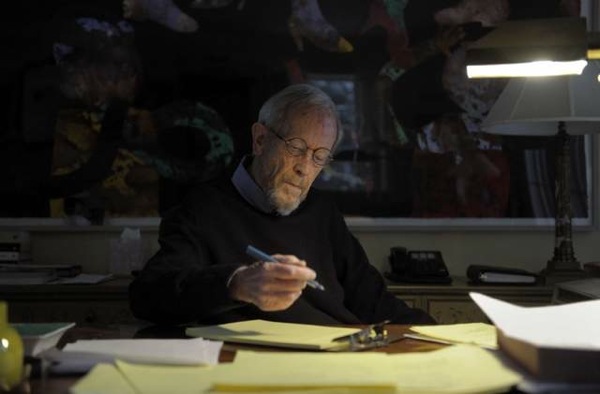 Elmore Leonard was not precious in his writing. He was a storyteller and an acute observer of human behavior (particularly the illicit kind), getting his start writing westerns in the '50s, then segueing to crime fiction in the late '60s. His economical narratives and sharp, colorful dialogue seemed a natural match for cinema, and yet, Hollywood being Hollywood, many of the adaptations turned out poorly. Delmer Daves's 3:10 TO YUMA and Budd Boetticher's THE TALL T were early triumphs, and Martin Ritt's HOMBRE was solid, but there was a spell throughout the '70s and '80s where his work was desecrated like so much Jackie Collins. It wasn't until Barry Sonnenfeld's GET SHORTY in 1995 that the full, idiosyncratic flavor of Leonard's mobbed-up yarns were approximated for the big screen. From this point forward, Hollywood got it gloriously right more often than they got blew it: JACKIE BROWN, OUT OF SIGHT, the short-lived ABC series KAREN SISCO and the still-going-strong JUSTIFIED more than atone for botch jobs like BE COOL and FREAKY DEAKY.
Leonard has been such a vital part of the popular culture lately that his passing at the age of eighty-seven feels akin to losing Raymond Chandler right before the publication of THE LONG GOODBYE. Leonard was cooking, damn it. His latest novel, RAYLAN (inspired by the widespread affection for JUSTIFIED), found that old lean-and-mean groove, and sustained itself right to its immensely satisfying conclusion. This wasn't Howard Hawks taking a good-natured curtain call with RIO LOBO; this was a master craftsman writing with the spirit and invention of a man half his age. Leonard seemed unstoppable.
As with many of the great pulp practitioners, Leonard leaves behind a bookstore section's worth of novels and short story collections, and though they are finite in number, they are blessed with the virtue of being eminently re-readable. They also work in familiar characters from other novels, all of whom toe that line between doing the right thing and the very wrong thing - and it's always a blast to see how far under their worst impulses pull them. Once you're immersed in Leonard's world (especially his beloved/detested Detroit), you'll pile up the paperbacks at your bedside (or load up your Kindle if that's your thing), and you'll want to stay there forever. Given his prolificacy, it's remarkable how few of Leonard's books can be labeled genuine disappointments. To tell you the truth, I've never regretted the time spent with a single Leonard tome; some are more satisfying than others, but they all sing with that inimitable vulgar banter (Speaking of singing, has anyone ever tried to make a musical out of a Leonard book? They should.)
Leonard wasn't much for sentiment, so perhaps this is why I'm not moping around my living room as I do when someone whose work I adore dies. I never met the man, but he was a constant presence in my life, one of the most reliable sources of entertainment I knew. His books, the movies based on his books, the TV series... they just make me smile. So while I am heartbroken by the news of his passing, and would like to express my condolences to his family and friends, I'm looking up at my copy of TISHOMINGO BLUES, thinking about the Dixie Mafia and other elements I'll not spoil for the uninitiated, and, goddamn it, I'm smiling. Few writers have ever given me this much pleasure. Then again, judging from this classic New York Times column by Mr. Leonard, few writers respected their readers to such a degree. Thank you, sir. I'd say more, but I'm afraid of veering into hooptedoodle.
Faithfully submitted,
Mr. Beaks