Dwayne Johnson has been dutifully Tweeting away images from the filming of his upcoming HERCULES movie under director Brett Ratner. To date, however, said images have only hinted at the scale of the wonders we'd behold.
That changed a bit today with the issuance of these pictures from the movie's sprawling set...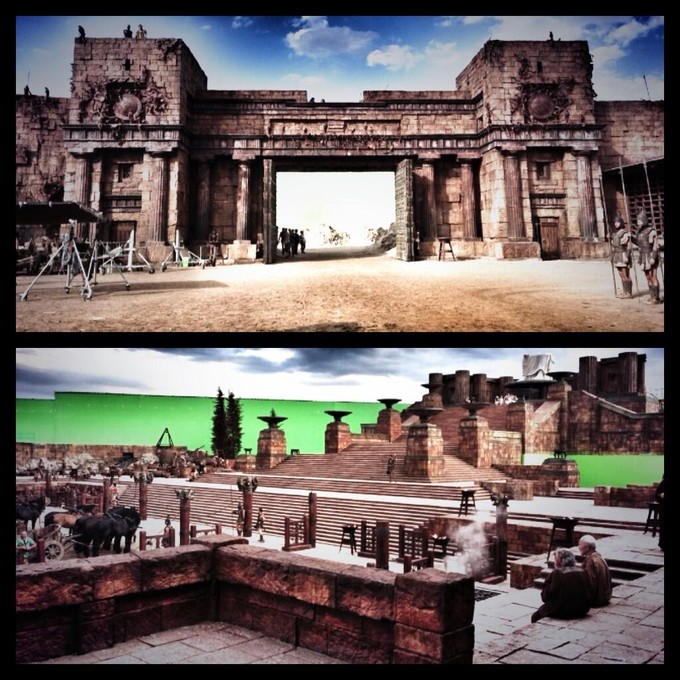 No matter how you cut it, that's some wonderful, old-school practical awesomeness right there and it looks pretty great and promising.
Anyone who's seen X-MEN: THE LAST STAND can attest to Ratner's vast qualification for handling large-scale action and genre-bending set pieces...
<<crickets>>
...and here I'm sure he'll bring to bear the same super-charged bravado and ballsy acumen he demonstrated in that film.
<<crickets>>

Come what may, Ratner's pulled together an impressive cast for this one - joining Johnson will be John Hurt, Ian McShane, Rufus Sewell, the rather hot Rebecca Ferguson, and the smoldering Irina Shayk for an adventure scripted by Ryan Condal from the comics HERCULES: THE THRACIAN WARS from Radical.
It's due in theaters next July and despite the sarcasm advanced herein, I do want it to work. I like Johnson (I mean...I like Dwayne Johnson as an actor/screen presence...not the other kind of Johnson...not that there's anything wrong with that) and in a time when large budget action adventure/fantasy movies seem beleaguered and imperiled, Geeks like us NEED this to work. So fingers crossed...Ratner not withstanding.
-------------------
Glen Oliver
"Merrick"
- e-mail
- Twitter
- Google +