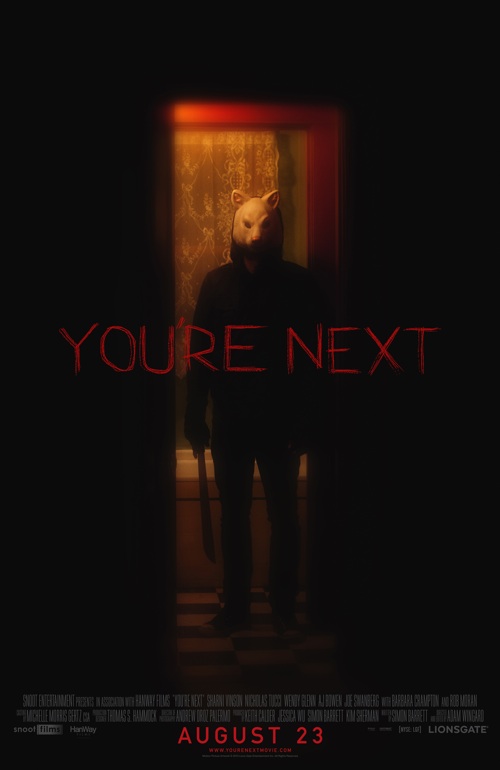 Beaks here...
At last, after nearly two years of knocking 'em dead on the film festival circuit, Adam Wingard and Simon Barrett's YOU'RE NEXT is ready to fuck with moviegoers nationwide. The smart, scary, brutally effective home invasion flick opens wide on August 23, and to help kick things off, AICN is hosting a free early screening here in Los Angeles!
YOU'RE NEXT plays brilliantly with an audience, so you'll definitely want to join me this Thursday, August 22nd at The Grove to see what we've been raving about for the last couple of years. The film will start promptly at 7:30 PM, so you'll want to be in line at least twenty minutes before showtime. I will be overbooking to ensure a full house, so if I somehow cannot accommodate you, I will give you two reserved seats at the next AICN screening.
Want in? Here's what you need to do:
1) Send an email with the subject "I'M NEXT!" to mrbeaks@gmail.com.
2) In the body of the email, include your first and last name *and* the first and last name of your guest (only one guest per attendee please).
3) Check the site at 4 PM PT Wednseday to see if you made the list. I will be posting a new article with the guest list. I will NOT be sending an email confirmation, so the only way to find out if you made the cut is to check the site.
This is a movie you want to see with a packed house, so hurry up and send me an email! Hope to see you there!