Ahoy, squirts! Quint here with today's Behind the Scenes Pic!
About a decade ago I saw a Bogart double feature at the local Paramount Theater during their awesome classic film series they run every summer. I hadn't seen either movie, one was super famous and the other a bit more obscure outside of cinephile circles. The double bill was Key Largo and Dark Passage.
Weirdly, I ended up preferring Dark Passage. That's not to crap all over Key Largo, which is a very damn good movie, but it was a lot more stage-bound than I expected and Dark Passage also had the benefit of not being built up for years. The cinema on display in Dark Passage bowled me over and to this day it's one of my favorite noirs.
If you've never seen it, what's outstanding about it is that the first act is told in Bogart's POV. He's a man wrongly convicted of killing his wife who has busted out of prison so he can clear his name. The problem is his face is too famous, so an early priority is to get some crazy backroom plastic surgery. Bogart's face is the result of the plastic surgery, but leading up to that we just hear his voice.
It's so good! Seek it out, I promise you'll dig it.
Today's photo is a candid behind the scenes moment during the making of Dark Passage with Bogart and wife Lauren Bacall. I'm sure this is a staged publicity still, but it's still pretty rad. Enjoy!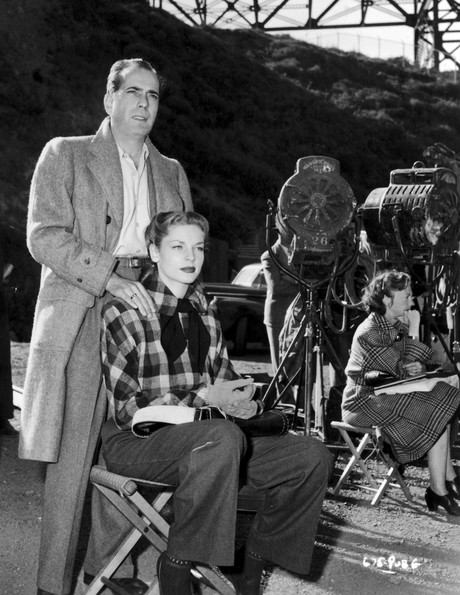 If you have a behind the scenes shot you'd like to submit to this column, you can email me at quint@aintitcool.com.
You hurt tomorrow's behind the scenes pic real bad.
-Quint
quint@aintitcool.com
Follow Me On Twitter
I've got a lot of maintenance work to do on the previous BTS articles, but you can visit two pages worth of images (beware of some broken links thanks to the last server shift): Click here for Page One and Click here for Page Two!