Papa Vinyard here, and I got somethin' for ya...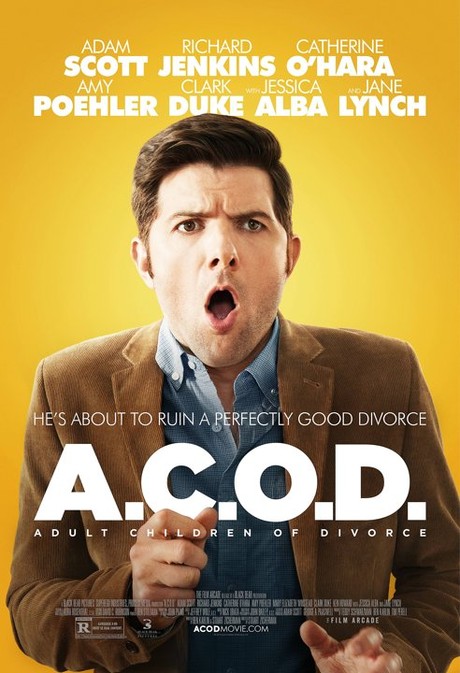 Yahoo has premiered the trailer for the upcoming Adam Scott comedy, A.C.O.D., which has the PARTY DOWN alum playing the titular Adult Child Of Divorce. His parents are played by Richard Jenkins and Catherine O'Hara (I'm there.), Clark Duke plays his brother, Jessica Alba plays his love interest (gotta feel sorry for this guy), and Jane Lynch is his therapist. We also have Mary Elizabeth Winstead, Amy Poehler, and Sarah Burns (of the tragically canceled ENLIGHTENED) running around the film. With that cast, who cares what the premise is, right?
Well, hopefully not you, 'cause I really can't tell you what it is from this trailer. I guess Scott's parents divorced when he was younger, and his non-certified therapist (huh?) wrote a book about him that gives him some neuroses and family conflict when she approaches him to do a follow-up. Seems like it's just a loose comic premise to let the character work stand front and center, which is awesome considering the comedic talent we got here. Duke, O'Hara, Jenkins, and Poehler all seem pretty funny, and it seems like a good vehicle for Scott to show his leading-man chops. He's way better known for his TV stuff like PARTY DOWN and PARKS AND RECREATIONS than he is for his work in movies like OUR IDIOT BROTHER, STEP BROTHERS, THE AVIATOR, the underseen Paul Rudd dramedy 2 DAYS, and, lest we forget, his scene-stealing role in TORQUE (perhaps the best part of that almost-fun flick). Hopefully, he can hold the film together and flex his comedy muscles at the same time, which would help in bumping his status up a little bit, and maybe (hope, hope) lend some credence to the idea of a PARTY DOWN feature film.
Match that with the solid reviews this flick got out of Sundance, and I'm definitely looking forward to catching this, albeit possibly on VOD.
A.C.O.D. tries to get over the past on October 4th.
-Vincent Zahedi
"Papa Vinyard"
vincentzahedi@gmail.com
Follow Me On Twitter