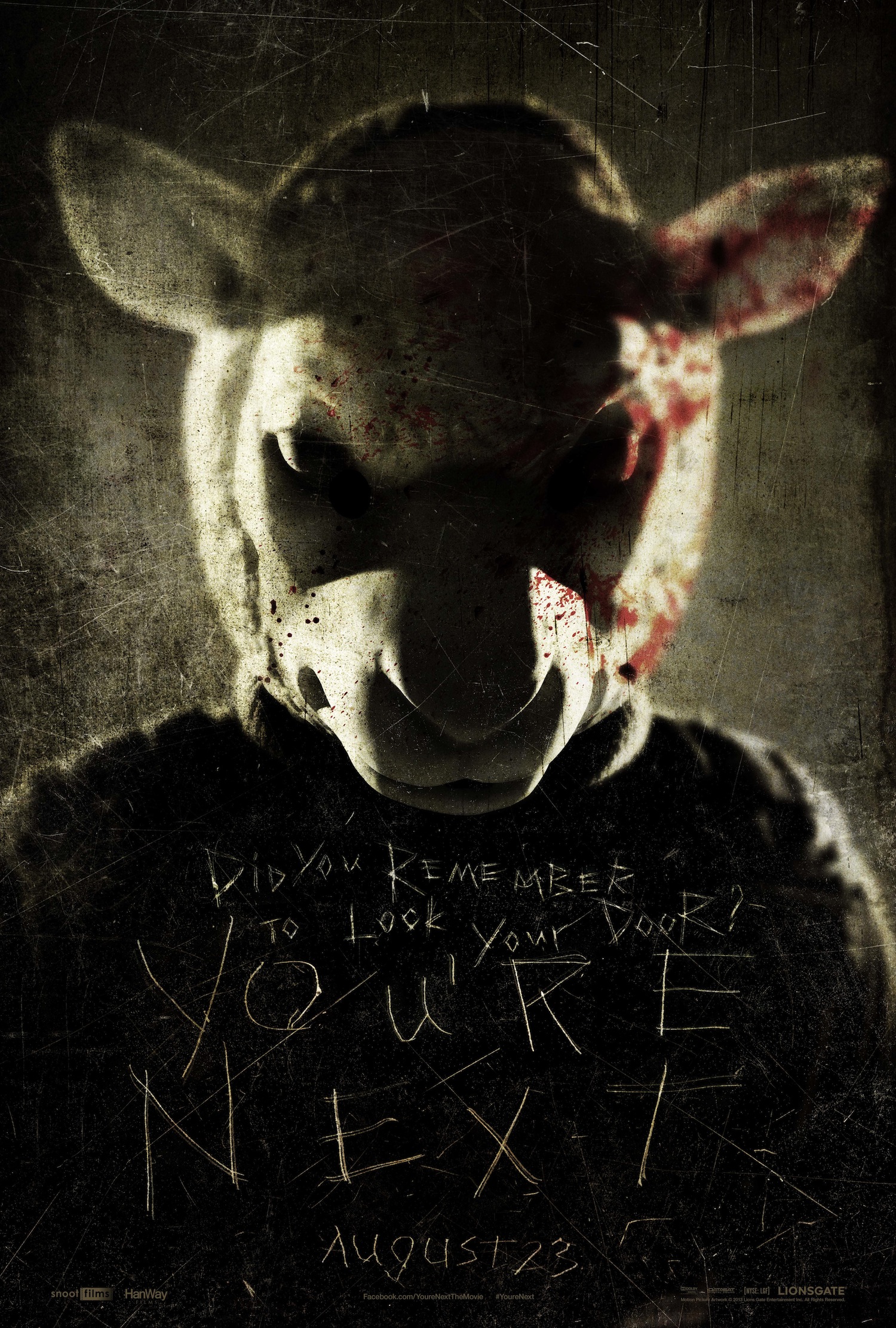 Nordling here.
Yeah, I love YOU'RE NEXT. Wanna fight about it? It's one of my favorite horror films of the year, and I love how entertaining this is. I love how the movie practically switches genres in the middle, and with the right audience, I think horror fans will really embrace it. Sharni Vinson gives a performance like Jamie Lee Curtis or Neve Campbell, but between you and me, I think she can take 'em. Adam Wingard has made a crowd-pleasing horror movie, and I'm excited to see it again.
And next Thursday, I get to, with a bunch of Houston fans in tow! I'm screening YOU'RE NEXT on Thursday, August 22, at the Alamo Drafthouse Vintage Park. I get to fill the theater, so I need 121 people to join me for some great scary fun! Just send me your name and the name of your guest to aicnhoustonscreenings@gmail.com with the heading I Wanna Be Next! To win, just give me your most elaborate survival techniques in case your home gets invaded. Yes, this is Texas, so I expect I'll get a bunch of people sending emails with "SHOOT 'EM IN THE FACE!" but I want you to be more clever than that. Winners get to see YOU'RE NEXT for free next Thursday.
If for whatever reason you win and you can't make it, you must let me know no later than Thursday morning, 8:00 AM. Those that win and don't notify me and then not show up, guess what? You'll never be next again, not with a movie I'm hosting. Yes, I do keep a list. Also, this is an Alamo Drafthouse we're screening YOU'RE NEXT at, so entry is free, but food and drink are not. Still, you can chill with a beer and watch one of the most enjoyable movies of the year, so it's worth the price of a drink! You and a guest can come, just list their name along with yours in the email. No more than one guest per person, and sorry, but no kids. Leave the rugrats at home.
Good luck and hope to see many of you next Thursday!
Nordling, out.