Papa Vinyard here, and I got somethin' for ya...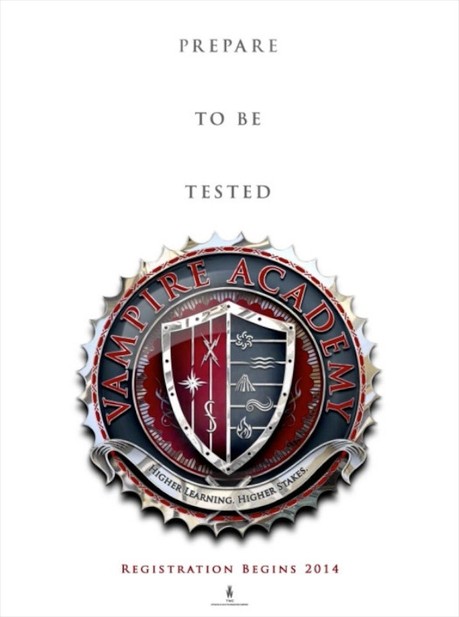 Courtesy of Yahoo, we have a trailer from the upcoming adaptation of the young adult book series, VAMPIRE ACADEMY. The film stars Zoey Deutch as a half-human half-vampire teen who is tasked with defending her full-blooded vampire buddy from a more fucked-up sect of fangers called "Strigoi". The trailer sets up the premise in broader strokes, mainly establishing the idea of a high school populated solely by vampires. The tone varies from straightforward comedy, to a more ominous world-building vibe, to quick-cutting vampire action, and we don't get a real sense of which will dominate the film in the minute-15 peek we get here. We don't really get a good look at the bigger names in the cast, such as Olga Kurylenko, Joely Richardson, and Gabriel Byrne, and there really isn't enough of Deutch (whom I really didn't care for on the Sarah Michelle Gellar show, RINGER) to gauge whether she can hold down a feature film as the lead. There is little evidence on display here that this brings anything new to the beaten-into-the-ground subgenres of vampire movies and young adult novel adaptations.
So why should we care about this? Well, the film was written and directed by brothers Daniel and Mark Waters, respectively. Mark Waters has directed some junk, like MR. POPPER'S PENGUINS, GHOSTS OF GIRLFRIENDS PAST, and JUST LIKE HEAVEN, but he's also helmed more interesting stuff like THE SPIDERWICK CHRONICLES, THE HOUSE OF YES, and, most relevantly, MEAN GIRLS. It's Daniel who has the more promising resume. He's responsible for some weird, subversive studio flicks like DEMOLITION MAN, BATMAN RETURNS, HUDSON HAWK, THE ADVENTURES OF FORD FAIRLANE (which I will defend to my grave), and the film that probably got him this job, HEATHERS. I could quote you lines from each of those movies right now, so those flicks give him enough cred in my book to take interest in whatever gig he takes as a writer (he's been spending the last decade or so directing two of his own scripts, SEX AND DEATH 101 and HAPPY CAMPERS). If the two brothers can channel their odder, darker tendencies for this teen-centric supernatural go-around, this could be more fun and memorable than your average angsty adolescent horror-romance.
But this trailer just seems like a hearty helping of typical. Judge for yourself.
VAMPIRE ACADEMY commences on February 14th, 2014.
-Vincent Zahedi
"Papa Vinyard"
vincentzahedi@gmail.com
Follow Me On Twitter