Ahoy, squirts! Quint here with today's Behind the Scenes Pic!
Return to Oz straight up fucked my shit up when I was a kid. That movie was made in Disney's dark period as they were wandering lost in the wilderness, their always trustworthy animated films misfiring and their business end in confusion.
Naturally that means I'm fascinated about the films of this era now. I miss dark Disney, even the bizarre, train-wrecky Black Cauldron.
But there's nothing more fucked up than Return to Oz. Not Black Hole, not Something Wicked This Way Comes... nothing. Wheelers, the Nome King, that goddamn head-switching witch that screams "Dorothy Gaaaaaaaaaalllleeee" like a messed up horror movie villain.
I legit wonder what Walt Disney would think of the movie. He had been trying to make a Wizard of Oz sequel since the '50s and over the decades and past his death that project evolved to Return to Oz. I bet he'd hate it, but even though it scarred me (maybe because it did) I love the movie.
Below you're going to see the creepy Nome King, which on his own would have been the childhood destroying character in any other movie and is just yet another nightmare unleashed by Return to Oz, being brought to life via the miracle of stop motion. Enjoy!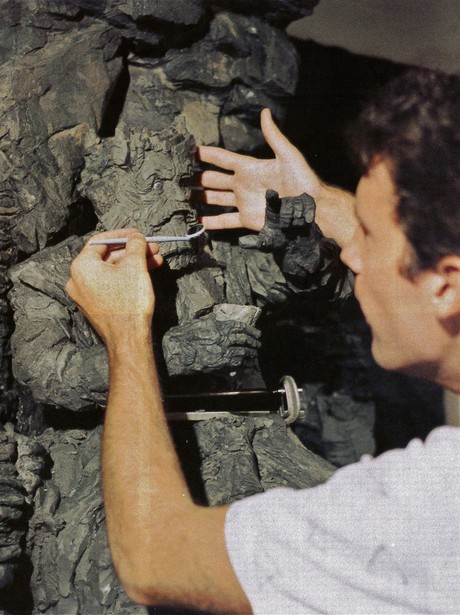 If you have a behind the scenes shot you'd like to submit to this column, you can email me at quint@aintitcool.com.
Tomorrow's behind the scenes pic finishes out the run of Disney images with one that the studio is more comfortable forgetting.
-Quint
quint@aintitcool.com
Follow Me On Twitter
I've got a lot of maintenance work to do on the previous BTS articles, but you can visit two pages worth of images (beware of some broken links thanks to the last server shift): Click here for Page One and Click here for Page Two!