Hey guys! Horrorella here...
A trailer and poster have arrived from Disneynature's upcoming BEARS. The nature film focuses on a mother and her two cubs in the wilds of Alaska.
In an epic story of breathtaking scale, Disneynature's upcoming true life adventure "Bears" showcases a year in the life of a bear family as two impressionable young cubs are taught life's most important lessons. Set against a majestic Alaskan backdrop teeming with life, their journey begins as winter comes to an end and the bears emerge from hibernation to face the bitter cold. The world outside is exciting—but risky—as the cubs' playful descent down the mountain carries with it a looming threat of avalanches. As the season changes from spring to summer, the brown bears must work hard to find food—ultimately feasting at a plentiful salmon run—while staying safe from rival male bears and predators, including an ever-present wolf pack. "Bears" captures the fast-moving action and suspense of life in one of the planet's last great wildernesses—Alaska!
Thankfully, the voiceover guy sounds pretty positive and the accompanying music is happy and uplifting, which gives me hope that nothing terrible will happen to this bear family over the course of the movie and the souls of the audience will not be crushed.

As opposed to the 1989 film, THE BEAR, wherein, if I remember correctly, the mother bear's head got squashed early on by a giant boulder and I was reduced to tears and had to be taken out of the theater and next door to Chuck E. Cheese.
BEARS hits theaters April 18th.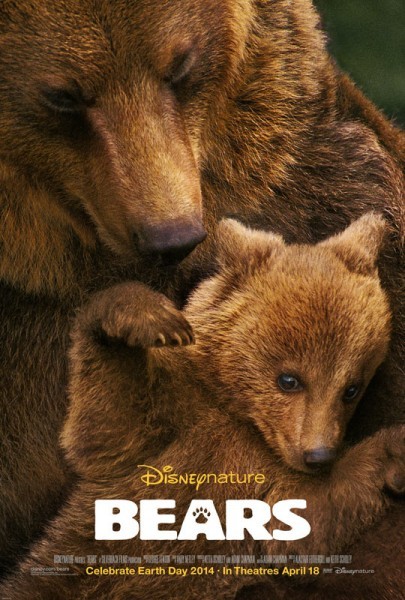 Follow me on Twitter