Papa Vinyard here, and I got somethin' for ya...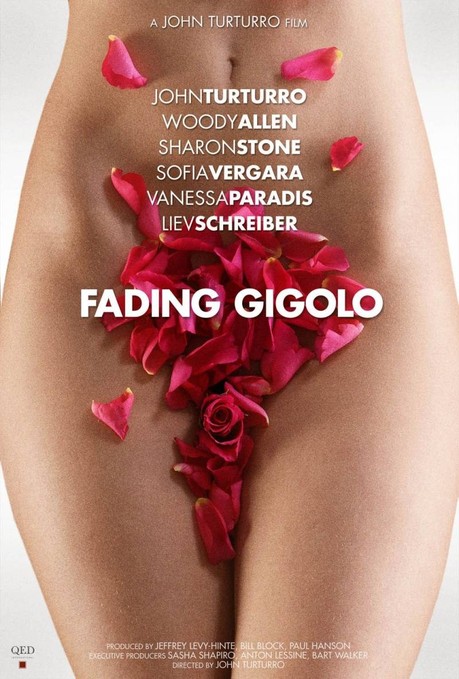 John Turturro and Woody Allen have worked together twice before; Turturro had a bit part in HANNAH AND HER SISTERS, and they both had colorful supporting roles in 2000's COMPANY MAN. But the two New Yorkers have teamed up for their most significant collaboration yet, as an elder pimp and his upstart male prostitue in Turturro's most recent directorial outing, FADING GIGOLO. We have the trailer below, and it certainly seems more lighthearted and, dare-I-say, Allen-esque than Turturro's own films, like ROMANCE & CIGARETTES and ILLUMINATA. While Allen's one-liners aren't the sharpest we've ever seen from the legendary comedian-actor-director, it is always a joy to see the guy in front of the camera; this is is only his third acting role in the past 10 years, and his first for another director since COMPANY MAN. The trailer also gives us a look at Sharon Stone, Sofia Vergara, and Vanessa Paradis, who play three of Turturro's clients, and the supporting cast also includes Liev Schreiber, Bob Balaban, Aida Turturro, and Michael Badalucco.
I found ROMANCE & CIGARETTES to be a brave, moving experiment, and I'm fascinated by the idea of Turturro and Allen headlining a movie together. I'm not over the wall for this trailer, but I am holding my breath to hear word on the actual film when it premieres in Toronto in a month. I mean, there's no way this is anything less than at least casually entertaining and chuckle-inducing, right?
FADING GIGOLO doesn't have a U.S. release date yet, but will premiere at TIFF next month.
-Vincent Zahedi
"Papa Vinyard"
vincentzahedi@gmail.com
Follow Me On Twitter