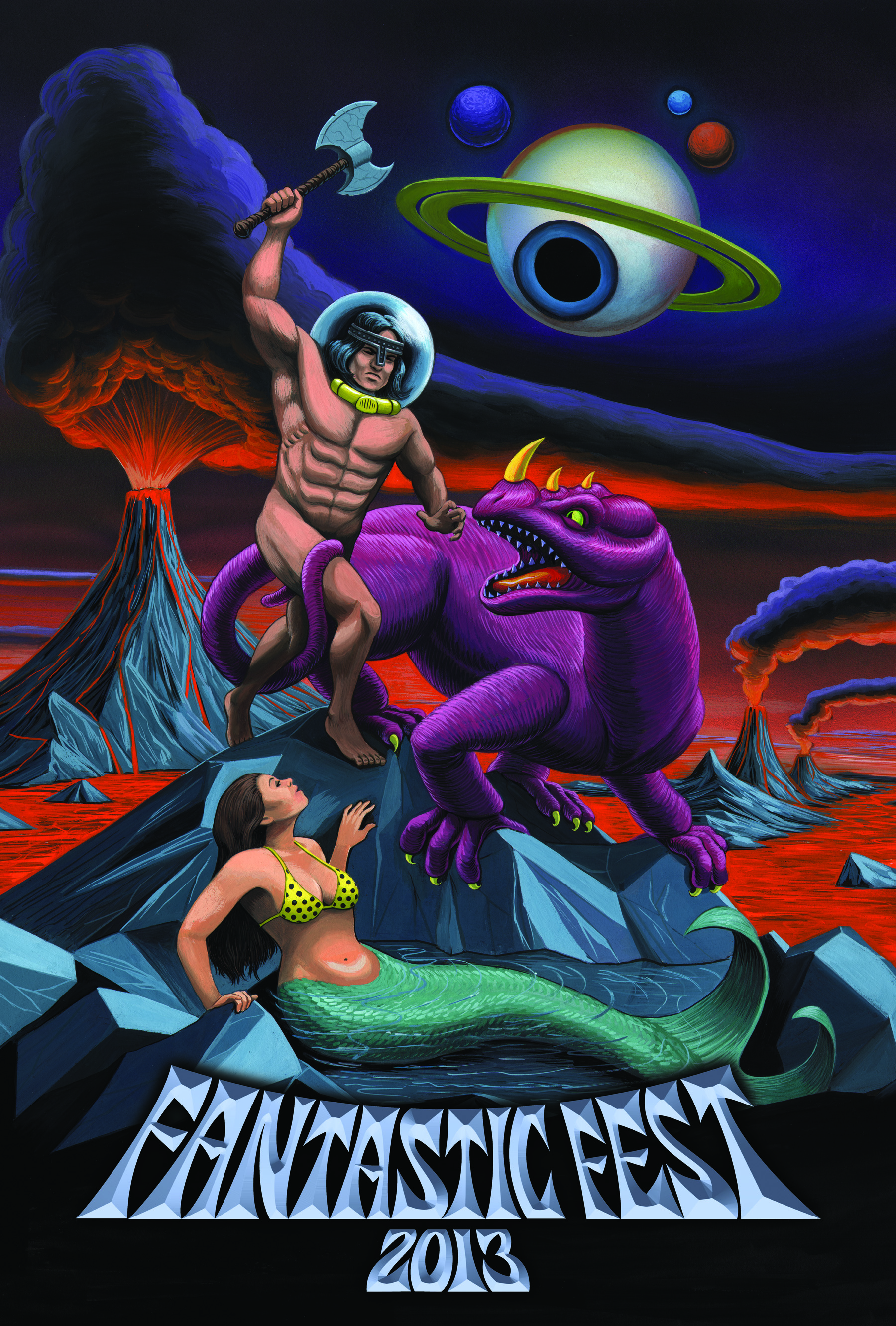 Nordling here.
I had my suspicions that some of these titles would play at this year's Fantastic Fest (Elijah Wood is a FF regular, so I'm pleased to see GRAND PIANO make it on the list - heard good things), and I'm glad to see some of those suspicions confirmed. I'm especially eager to see Alex de la Iglesia's WITCHING AND BITCHING and COHERENCE sounds like this generation's NIGHT OF THE COMET (if we're lucky, that movie is rad). David Cronenberg narrates a documentary about organ trafficking (and really, who else? Who else on the planet?) in TALES OF THE ORGAN TRADE. And I'm always game for a UFO documentary, with MIRAGE MEN. Good spread of titles for the second wave. Fantastic Fest starts September 19th and sadly comes to an end on September 26th. Here are the titles:
FANTASTIC FEST 2013 ANNOUNCES

SECOND WAVE OF FILM PROGRAMMING

Austin, TX-Tuesday, August 13, 2013- Fantastic Fest is excited to announce the second wave of programming for the ninth edition of Fantastic Fest, taking place September 19 - 26 at Alamo Drafthouse Lakeline in Austin, Texas. See below for descriptions of nineteen new World, North American & US premiere films at this year's festival and stay tuned for more amazing 2013 content to be announced!

FIELD IN ENGLAND, A (England, 2013)

North American Premiere

Director - Ben Wheatley, 90 mins

During the British Civil War, when magic was science, an alchemist forces a group of deserters to help him locate buried treasure, and sends them all straight into the mouth of madness.

AFFLICTED (Canada, 2013)

US Premiere

Director - Clif Prowse, 85 mins

Derek and Clif, best friends documenting their journey across the world, are in for an unexpected adventure when one of them comes down with a sinister sickness.

ALMOST HUMAN (USA, 2013)

US Premiere

Director - Joe Begos, 80 mins

A man who disappeared under mysterious circumstances returns to wreak havoc upon a small town.

BLUE RUIN (USA, 2013)

US Premiere

Director - Jeremy Sauliner, 90 mins

A homeless man aims to avenge his dead parents when their killer is released from prison, triggering a chain of events that will only end in more blood.

COHERENCE (USA, 2013)

World Premiere

Director - James Ward Byrkit, 127 mins

On the night a comet is passing near Earth, a dinner party takes an odd turn. When the power goes out, eight friends discover that the only house on the street left with power also holds many secrets.

CONGRESS, THE (Israel, Germany, 2013)

North American Premiere

Director - Ari Folman, 122 mins

Robin Wright (playing herself) receives the last offer she'll ever get from a Hollywood studio in Ari Folman's adaptation of Stanislaw Lem's classic scifi novel, and his follow-up to WALTZ WITH BASHIR.

GOLDBERG AND EISENBERG (Israel, 2013)

World Premiere

Director - Oren Carmi, 91 mins

A psychopath develops a dangerous obsession with a schlubby computer programmer.

GRAND PIANO (Spain, 2013)

World Premiere

Director - Eugenio Mira, 90 mins

A renowned concert pianist (Elijah Wood) returns to the stage for one final performance, only to become the target of a sadistic cat-and-mouse game with a faceless sniper (John Cusack).

HENTAI KAMEN: FORBIDDEN SUPER HERO (Japan, 2013)

Texas Premiere

Director - Yuichi FUKUDA, 105 mins

A new hero has arisen in Japan: One with fishnet stockings, a mankini, and a pair of women's panties over his face. When conventional justice fails, make way for the Hentai Kamen.

MARUYAMA THE MIDDLE SCHOOLER (Japan, 2013)

North American Premiere

Director - Kankuro Kudo, 119 mins

A middle school student prone to wild daydreams devotes his waking hours to stretching and flexibility exercises with the ultimate goal of one day being able to lick his own penis.

MIRAGE MEN (United Kingdom, 2013)

North American Premiere

Director - John Lundberg, 85 mins

A mind-scrambling documentary that posits that popular myths about the existence of UFOs originated from a disinformation campaign by the U.S. government.

O'APOSTOLO (Spain, 2013)

Texas Premiere

Director - Fernando Cortizo, 87 mins

Gothic legends are brought to life by gorgeous stop-motion animation in this adult fantasy film from Spain.

OUR HEROES DIED TONIGHT (France, 2013)

North American Premiere

Director - David Perrault, 94 mins

Freshly returned home from a stint in the French Foreign Legion, Victor finds work as a reluctantly villainous masked wrestler in this marvelously crafted ode to film noir from first-time director David Perrault.

PATRICK (Australia, 2013)

North American Premiere

Director - Mark Hartley, 95 mins

Nurse Kathy Jaquard didn't expect a lot of trouble on the coma ward but she gets more than she can handle when she meets the telekinetic Patrick in Mark Hartley's remake of the Ozsploitation classic.

PROXY (USA, 2013)

US Premiere

Director - Zack Parker, 120 mins

American director Zack Parker delivers an unexpected, nasty little thriller about a woman whose life spins out of control following an attack on her unborn child.

SEPTIC MAN (Canada, 2013)

World Premiere

Director - Jesse Thomas Cook, 83 mins

An erstwhile plumber undergoes a hideous transformation when trapped inside a septic tank and tormented by the bizarre residents of his town's sewage treatment plant.

TALES FROM THE ORGAN TRADE (Canada, 2013)

Austin Premiere

Director - Ric Bienstock, 82 mins

David Cronenberg narrates this fascinating documentary about the secret world of international organ trafficking.

WHY DON'T YOU PLAY IN HELL (Japan, 2013)

US Premiere

Director - Sion Sono, 126 mins

Things get insanely bloody when an inspiring film troupe known as The Fuck Bombers collide with a yakuza boss who wants to make a movie with his daughter, in Fantastic Fest veteran Sion Sono's (LOVE EXPOSURE; SUICIDE CLUB) latest.

WITCHING & BITCHING (Spain, 2013)

US Premiere

Director - Alex de la Iglesia, 120 mins

Hit Spanish director Alex de la Iglesia (THE LAST CIRCUS) returns to Fantastic Fest with a hilarious and gory tale of thieves who find themselves in over their heads when faced with a coven of bloodthirsty witches.

Look for more film & event programming announcements for Fantastic Fest in the weeks ahead.

For the latest developments visit the Fantastic Fest official site www.fantasticfest.com and follow us on Facebook & Twitter.
Nordling, out.