Ahoy, squirts! Quint here. I watched two new Disney shorts at the convention this year, so I thought I'd sit ya' down a spell and regale you with these tiny tales!
First was a brand new short film set in the universe of Monsters University called Party Central. This short will play before Pixar's The Good Dinosaur next year and it's another great one to add to the stack of super rad Pixar shorts.
It's very simple, the idea being that the OK frat (the nerdy one that Mike and Sully belong to) is throwing a party the same night as the popular frat and no one shows up. Sully and Mike have an idea to siphon off the partiers from the popular guys... they steal a set of door stations, set one end up at the popular party and the other inside Squishy's mom's house (aka the OK frat house).
What follows is a great montage of different clever ways to steal the thunder of the popular frat by leading monsters through a bedroom of a middle aged couple, who get closer and closer to waking up and catching the party monsters as they cross from one door to the other as the short goes on.
It's a great short and I very much look forward to seeing it again. It's not quite in their amazing, heart-touch brilliant shorts category, but it's okay to just do a silly fun short, too.
The second short was the lost Mickey cartoon Get A Horse starring Mickey Mouse, Minnie Mouse, Peg-Leg Pete and Clarabell and it's also great.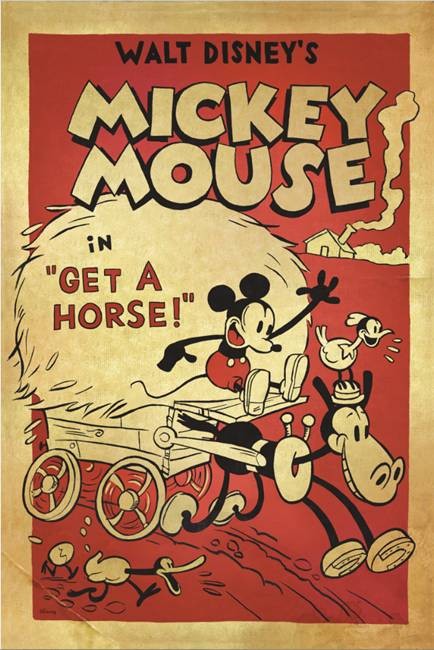 It's vintage Mickey, back in the weird days where Mickey was crudely drawn, but did bizarre shit, like jump out of his shorts (which he does here) when he's frightened. The story is basically Mickey and Minnie riding in a cart pulled by Clarabell and Peg-Leg Pete comes up behind them in a motor car, decides to be a dick and steal Minnie again and Mickey has to put a stop to him.
If that's all you want to know about the short, stop reading now. There's something I have to discuss that spoils a big part of the short... but I have to talk about it. It's really cool, so below is spoiler-central for this thing.
You've been warned: John Lasseter made us promise to keep a secret about this short, but I noticed in the Disney press release sent out today they kind of give up the game and considering the secret he wants to keep is one of the coolest parts of the short I am going to discuss it a bit here.
They told us to put our 3D glasses on for the short and I thought, "Wow, so they not only found the old animation drawings and the only known print of this film, they also post-converted it for 3D when they did the transfer and restoration." Like a dummy. It looked great, by the way, but it should since... well... let's just say there comes a moment in the short when it literally comes off the page. The black and white short is playing and Mickey is propelled through the page and into CG color animation as if he was pushed through the black and white page. There's a tear in the paper and everything.
The big secret is that this isn't a found vintage short at all, but an entirely new creation that pays loving homage to the original Mickey toons and escalates to a degree that it literally bursts out of the old and into the new.
By the way, Mickey is still voiced by Walt Disney. They found the original recordings of Walt doing Mickey's voice and searched through them to pull out words and phrases they could use in the cartoon. There's a particularly great moment where Mickey breaks through and into color where he looks down at his shorts and exclaims "Red!" He's never seen his shorts in color before!
The short is fantastic for animation nerds because of how exacting it is to the style of the originals, but it's also just a flat out funny return of Mickey Mouse to the short format. Inventive, weird, hilarious and beautifully done. Bravo to all involved!
Get A Horse will play before Frozen.
-Eric Vespe
"Quint"
quint@aintitcool.com
Follow Me On Twitter