Ahoy, squirts! Quint here with today's Behind the Scenes Pic!
I'm gonna have to be quick with this one as I'm racing my laptop's battery as I try to catch up on the big Animation panel from today's D23. In keeping with my Disney themed BTS run, today we're looking behind the scenes of one of my favorite Mickey shorts: Mickey and the Beanstalk, which was part of the Fun and Fancy Free feature.
Below you'll see Disney animator Woolie Reitherman drawing Mickey and using his own face as reference. Fun note: Mickey and the Beanstalk marks the last time Walt himself voiced Mickey.
Enjoy!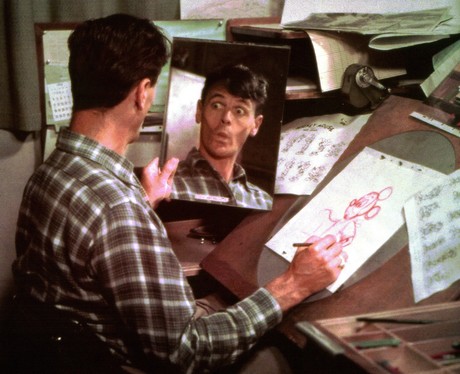 If you have a behind the scenes shot you'd like to submit to this column, you can email me at quint@aintitcool.com.
Tomorrow's behind the scenes pic has a friend in me.
-Quint
quint@aintitcool.com
Follow Me On Twitter
I've got a lot of maintenance work to do on the previous BTS articles, but you can visit two pages worth of images (beware of some broken links thanks to the last server shift): Click here for Page One and Click here for Page Two!