Papa Vinyard here, and I got somethin' for ya...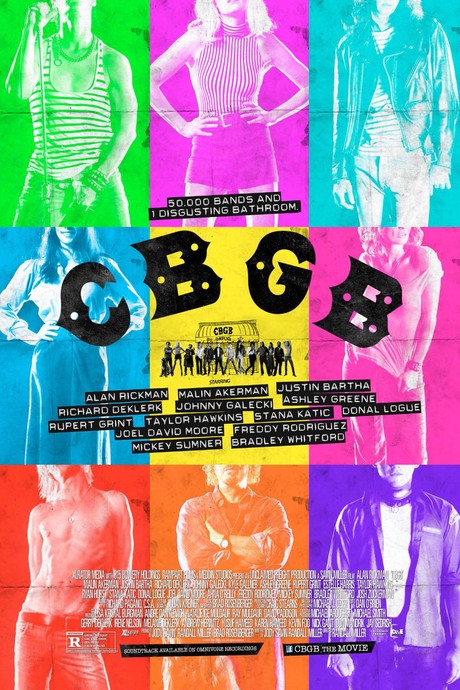 Back in April, we got our first look at Randal Miller's upcoming dramatization of the early days of the legendary downtown NYC rock club CBGB via these character posters. Today, Hollywood Reporter has posted a trailer for the film which highlights the amount of big names both in the cast and in the subject matter. We got Alan Rickman as club founder Hilly Kristal, Joel David Moore as Joey Ramone, Malin Akerman as Debbie Harry (I approve), and Rupert Grint, Donal Logue, Justin Bartha, Ashley Greene, Johnny Galecki, Bradley Whitford, and Freddy Rodriguez as other figures who revolved around the infamous Bleeker and Bowery venue.
While director Randall Miller has a slightly underwhelming filmography, with mediocre films like BOTTLE SHOCK, THE 6TH MAN, and CLASS ACT (which, admittedly, I have a soft spot for) peppering his career, but this one's looking like an interesting project. The punk scene in late-'70s/early-'80s New York is fascinating stuff, and it looks like this one has the star power and the ambition to portray it in some of its true, anarchic glory. CBGB was actually still in it's original location when I went to college in downtown Manhattan (the doors closed in October 2006), and I remember freshman talking about maybe going over there in hushed tones, like a Graceland where a beer bottle might cut your arm. And that was 20+ years after it had been nationally recognized as a massive institution for up-and-coming bands and sweaty, wild concerts. Alan Rickman's beleaguered owner seems like a great grounding element, so if they can contrast his business savvy with the anything-goes vibe that surrounded the establishment, this could be a fun, revealing look at one of the major hubs of contemporary American music.
If nothing else, it's probably gonna have a kickass soundtrack.
CBGB kicks out the jam on October 11th.
-Vincent Zahedi
"Papa Vinyard"
vincentzahedi@gmail.com
Follow Me On Twitter