Hey guys! Horrorella here...
With THOR: THE DARK WORLD set to open later this fall, the time has come for the advertising machine to kick into full gear - starting with this brand-spankin'-new poster (from EW).
This first poster bears a close resemblance to the lay-out of the poster for IRON MAN 3, and shares the same clutter problem. There are a lot of characters crammed into the same space - Thor, Jane, Odin, Loki (but I love the grin plastered on his face), Sif, Heimdall, The Warriors Three (who are so far away and tiny that I can't even really make them out) - the entire gang is here. Not to mention, Asgard, a giant war ship, an army of dark elves, some birds and some fireballs. Yeah, this poster is a tad on the busy side - but still exciting.
The thing I find the most interesting is the disembodied head of Christopher Eccleston's Malekith the Accursed, in the top left corner. This is the first time we are really getting a close look at him, since he wasn't really included in the first trailer. I'm also digging Jane Foster's Asgardian armor.
What do you guys think? THOR: THE DARK WORLD opens November 8th.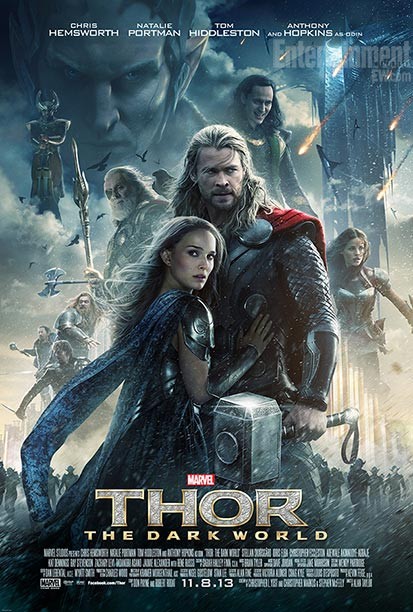 Follow me on Twitter