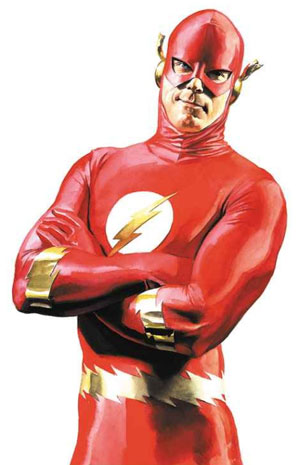 Greg Berlanti, the longtime "Dawson's Creek" showrunner who went on to script 2011's "Green Lantern" movie and The CW's current "Arrow" series, is readying a new "Flash" series for The CW.
This would not be Berlanti's first run at the superfast DC comics superhero.
After his "Green Lantern" movie garnered only 19% positive reviews from top critics surveyed by Rotten Tomatoes -- and took in a "Batman & Robin"-ish $116 million gross in domestic box office -- Warner Bros. elected not to go forward with Berlanti's work on a potential "Flash" movie. (Plans for additional Green Lantern movies have stalled as well.)
The new idea, apparently, is to introduce The Flash's alter ego, Barry Allen, on the 8th or 9th episode of "Arrow" next season, then possibly spin the scarlet speedster off into his own series.
Hollywood Reporter sources indicated July 20 that Warners was planning a "Flash" movie for 2016, but the studio never announced such a plan at Comic Con, nor subsequently.
A year after 1989's "Batman" broke box office records, CW parent CBS greenlit its own Barry Allen "Flash" series, but that franchise never got beyond a single season.
While "Arrow" was quick to score a second season (the 0.9 in adults 18-49 its season finale garnered is considered a strong score at The CW), Belanti's poorly reviewed "Fantastic Four"-ish ABC hourlong "No Ordinary Family" never got beyond its first season.
Since the 2001 premiere of "Smallville," the WB and its CW successor have tried to develop series tied to a number of other DC Comics superheroes, among them The Sandman, The Martian Manhunter, future Batman sidekick Dick Grayson and Wonder Woman. 2002's "Birds of Prey," which teamed Batman's daughter with a crippled Batgirl and The Black Canary (who went on to become a character on both "Smallville" and "Arrow"), never got a 14th episode. A 2006 Aquaman pilot was shot but shelved.
Find all of Deadline's story on the matter here.