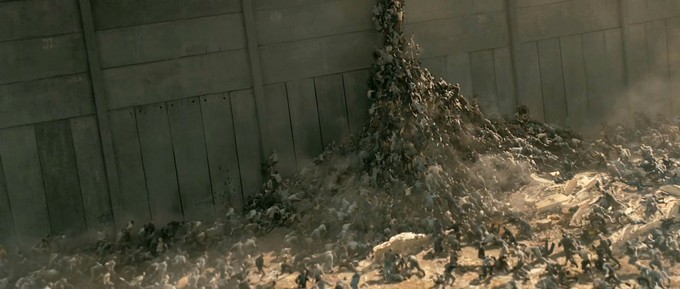 When WORLD WAR Z opened in theaters this Summer, it did not open in IMAX - an interesting turn given the film's impressive scale. A wrong soon to be righted from the sound of it, as The Powers That Be will be returning WWZ to screens. This time in IMAX 3D format - for one week only - beginning August 2.
I liked a lot about WORLD WAR Z...its urgency, atmosphere, its ferociousness and scope...although I think it stumbles considerably in its final third. It drifts...feels too...contained. Perhaps adhering to the picture's original ending (HERE) would've more fully deliver on the "World War..." promised by its title? As is, we saw only hints of such large-scale combat/conflict (i.e. actual 'war' instead of humans being overrun en masse) in the film's final, voice over moments. Intriguing...but perhaps could've been sold better?

Here's a press release on WWZ's reissuance...
PARAMOUNT PICTURES' WORLD WAR Z INVADES SELECT DOMESTIC IMAX

® 3D THEATRES FOR THE FIRST TIME STARTING AUG. 2

LOS ANGELES – JULY 29, 2013 – IMAX Corporation (NYSE:IMAX; TSX:IMX), along with Paramount Pictures and Skydance Productions in association with Hemisphere Media Capital and GK Films, today announced that due to overwhelming demand, the hit film World War Z starring Brad Pitt has been digitally re-mastered into the immersive IMAX® 3D format and will be released into select IMAX® theatres domestically for the first time for a one-week engagement beginning Aug. 2.

World War Z has captivated audiences worldwide – grossing more than $460 million since its launch on June 21. The film has already played in select IMAX theatres internationally.

World War Z revolves around an ex-United Nations investigator Gerry Lane (Pitt), who traverses the world in a race against time to stop a pandemic that is toppling armies and governments and threatening to decimate humanity itself. The film stars Pitt, Mireille Enos and James Badge Dale.

Paramount Pictures and Skydance Production present, in association with Hemisphere Media Capital and GK Films, a Plan B Entertainment/2DUX2 Production World War Z is directed by Marc Forster from a screenplay by Matthew Michael Carnahan and Drew Goddard & Damon Lindelof, and screen story by Matthew Michael Carnahan and J. Michael Straczynski. Based on the novel by Max Brooks. Produced by Brad Pitt, Dede Gardner, Jeremy Kleiner and Ian Bryce.

The IMAX 3D release of World War Z has been digitally re-mastered into the image and sound quality of The IMAX Experience® with proprietary IMAX DMR® (Digital Re-mastering) technology. The crystal-clear images, coupled with IMAX's customized theatre geometry and powerful digital audio, create a unique environment that will make audiences feel as if they are in the movie.

For more information about World War Z, please visit Paramount's official website at http://www.worldwarzmovie.com
-------------------
Glen Oliver
"Merrick"
- e-mail
- Twitter
- Google +