Coaxial
UNDER THE DOME
Gets Season Two!! Stephen King To Write First Episode!!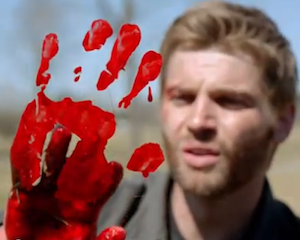 Series mastermind Brian K. Vaughan ("Lost") has long said he wants to do more seasons and "Dome" is the most watched show of the summer and ties the Stern-fueled "America's Got Talent" as the summer's top show in the key (adults 18-49) demo.
Les Moonves also announced at CBS' TCA presentation that Stephen King, whose novel forms the basis of "Dome," would write next season's first episode.
Top Summer Shows
(adults 18-49; older weeks in parentheses; repeats in gray)
2.8 (2.7) (2.7) (2.9) (3.3) Under The Dome
2.8 (2.5) (2.6) (2.4) (2.6) America's Got Talent (Tu)
2.5 (2.4) (2.1) (---) (---) Big Brother (We)
2.5 (2.1) (2.1) (1.9) (---) Big Brother (Su)
2.4 (2.9) (2.8) (1.1) (---) America's Got Talent (We)
2.4 (2.5) (2.3) (2.2) (2.2) True Blood
2.3 (2.2) (2.0) (1.7) (2.2) Big Brother (Th)
2.3 (2.2) (2.3) (1.0) (2.4) MasterChef
2.2 (2.1) (2.1) (---) (2.1) Hell's Kitchen
2.0 (0.9) (1.9) (1.7) (1.7) Love And Hip Hop
"Dome" also pulls much better ratings than most of CBS' regular-season programming, which is saying something:
CBS Regular Season
(as of mid-May; 18-49 finals; repeats in grey; older weeks in parentheses)
4.9 (4.9) (4.5) (3.1) (3.0) Big Bang Theory
3.5 (3.2) (2.8) (2.4) (2.0) 2½ Men
3.1 (3.1) (2.8) (2.2) (2.7) NCIS
2.7 (2.6) (1.5) (2.4) (1.5) 2 Broke Girls
2.6 (2.7) (1.3) (2.7) (---) How I Met Your Mother
2.6 (2.4) (2.9) (2.7) (2.6) Survivor
2.5 (2.4) (1.4) (1.6) (3.0) Criminal Minds
2.4 (2.4) (2.4) (2.3) (---) Amazing Race
2.4 (2.2) (2.7) (1.3) (2.7) NCIS LA
2.4 (2.4) (2.4) (1.6) (1.8) Person of Interest
2.3 (2.4) (1.3) (2.2) (---) Mike & Molly
2.2 (1.9) (1.5) (---) (2.4) CSI
2.1 (2.1) (1.6) (2.1) (---) Rules Of Engagement
1.9 (2.0) (2.0) (---) (1.4) Elementary
1.9 (1.7) (1.2) (1.8) (---) Hawaii Five-0
1.7 (1.6) (1.6) (1.4) (---) The Mentalist
--- (1.6) (1.5) (1.7) (---) The Good Wife
1.3 (1.3) (---) (1.3) (1.5) Blue Bloods
--- (1.2) (1.2) (1.6) (1.5) CSI NY
1.2 (1.3) (1.4) (1.5) (1.5) Golden Boy
1.2 (1.5) (1.9) (2.3) (1.4) 60 Minutes
1.2 (1.7) (---) (1.5) (1.7) Undercover Boss
1.0 (0.9) (1.0) (1.2) (---) 48 Hours
0.9 (1.0) (0.8) (0.9) (1.5) Vegas