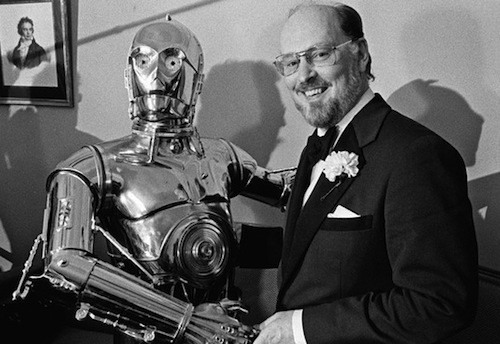 Ahoy, squirts! Quint here. So far the big Star Wars news out of Celebration is really a simple confirmation that John Williams will indeed return to score Episode VII for JJ Abrams.
News-wise, this is a very calculated bit of video of Mr. Williams talking. I noticed they only had Williams confirmed for Episode VII, he doesn't mention anything specific about the next movie, but still they know what works. I see John Williams talk about scoring new Star Wars and my inner geekout quickly becomes my outer geekout. I'm a pretty easy lay that way, but if you're reading this I'm sure you're in that geeky whore boat with me.
Check out the video:
My favorite part of this is Williams' obvious desire to bring in some past themes... not that that was in doubt at all since we know the original cast will return in some form and it's a direct continuation from the Original Trilogy, but to still see that sparkle in his eye as he discusses a galaxy far, far away makes all the difference in the world.
You're hardpressed to find someone who dislikes the prequels as much as I do, but I would never say Williams brought anything but his absolute best to those films. I'm dying to hear new John Williams Star Wars music!
Celebration is still ongoing, so perhaps we'll hear more Star Wars news soon. I'll be D23 next month, so if anything drops there I'll make sure to report back!
-Eric Vespe
"Quint"
quint@aintitcool.com
Follow Me On Twitter