Howdy do, everyone, Papa Vinyard here.
UPDATED (19:05): I've gotten word from a rep for Well Go USA Entertainment that the film will premiere on VOD on August 20th, and theatrically a month later on September 20th.
ORIGINAL ARTICLE BELOW: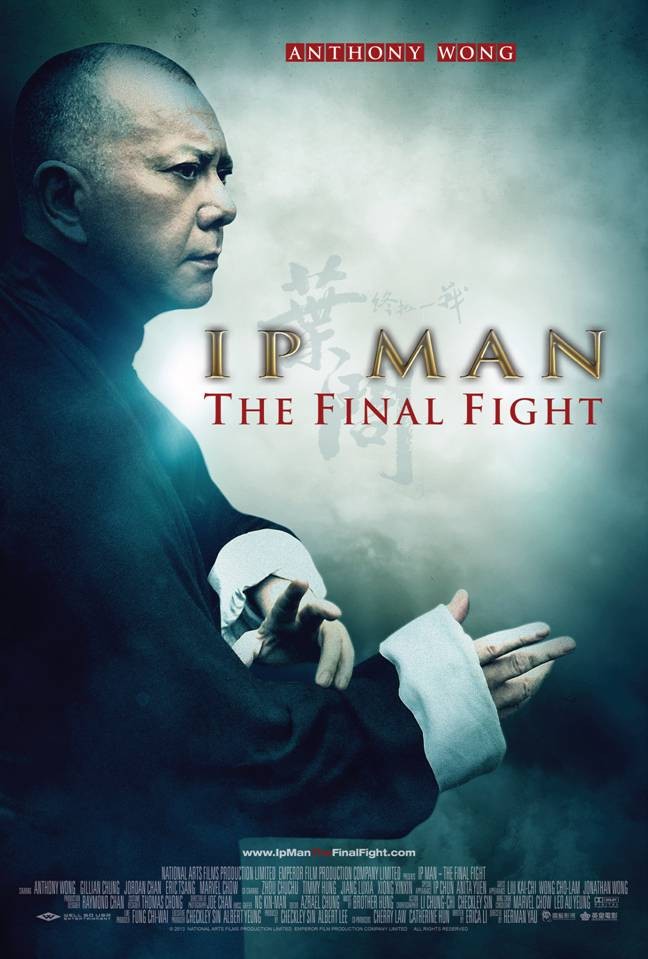 Enjoy this AICN EXCLUSIVE one-sheet for the latest (and final, as the title suggests) film chronicling the life of the legendary martial arts teacher, also known as Yip Kai-man, IP MAN: THE FINAL FIGHT. This sequel to Herman Yau's THE LEGEND IS BORN - IP MAN is unrelated to both the Wong Kar-Wai film, THE GRANDMASTER, as well as the Donnie Yen IP MAN films, although some of the material in Yen's second film is covered here as well. Dennis To, who played the younger version of the Wing Chun master in THE LEGEND IS BORN - IP MAN, is replaced here by Anthony Wong. You may recognize Wong as the villain from HARD BOILED, the superior to Tony Leung (who, coincidentally, plays Ip Man in THE GRANDMASTER) in INFERNAL AFFAIRS, or from his English-language roles in THE MEDALLION, THE PAINTED VEIL, and THE MUMMY: TOMB OF THE DRAGON EMPEROR.
The film has received the blessing of the real-life Ip Man's son, Ip Chun, via a cameo, and he also appeared in THE LEGEND IS BORN - IP MAN. Hopefully, this film does not get lost in the aftermath of THE GRANDMASTER, which has had much more stateside publicity due to Wong Kar-wai's international reputation.
Check out the badass trailer for the film that shows off the 50 year-old Wong's impressive Wing Chun abilities.
Ip Man - The Final Fight Trailer from Vendetta Films on Vimeo.
No word as to when distributors Emperor Motion Pictures and Well Go Entertainment will roll out IP MAN: THE FINAL FIGHT stateside, but it will most likely hit VOD and, hopefully, theaters later this year.
-Vincent Zahedi
"Papa Vinyard"
vincentzahedi@gmail.com
Follow Me On Twitter