Howdy do, everyone, Papa Vinyard here.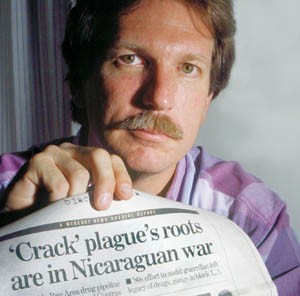 Focus Features released a press release today announcing that their Gary Webb biopic, KILL THE MESSENGER, has started production, and with it, they've listed a bunch of new names that really elevate the roster to "ensemble cast" status. Aside from Jeremy Renner, who we've known for a while was starring as Webb, we have a crazy lineup that includes Oliver Platt, Andy Garcia, Mary Elizabeth Winstead, Paz Vega, Michael K. Williams, Rosemary DeWitt, Robert Patrick, Barry Pepper, Tim Blake Nelson, and Michael Sheen. I did not realize that L.I.E. and HOMELAND director Michael Cuesta's film about Webb, who went after the C.I.A. and paid the ultimate price for it, was going to be this major of a production, but this cast definitely has my attention. All of those names have done excellent work in the past, and I'm always excited to see Sheen, Williams, Platt, and Garcia turn up in anything.
Here's the full press release:
Production has begun in Atlanta, Georgia on Kill the Messenger. Focus Features holds worldwide theatrical rights to the true-life dramatic thriller, which will be released in 2014. Focus CEO James Schamus and co-CEO Andrew Karpen made the announcement today.

Two-time Academy Award nominee Jeremy Renner stars as Gary Webb, the real-life dedicated reporter for The San Jose Mercury-News. In the 1990s, Webb uncovered the Central Intelligence Agency's role in importing cocaine into California that was sold to raise money for the Nicaraguan Contras rebel army. Supported by his wife and children, Webb pursued the story and went public with his evidence. When targeted for a vicious smear campaign by the CIA and rival journalists, Webb found himself fighting for his reputation and his family.

Joining Mr. Renner in the cast are Josh Close (of The Master), Rosemarie DeWitt (Rachel Getting Married), Academy Award nominee Andy Garcia, Lucas Hedges (Focus' Moonrise Kingdom), Tim Blake Nelson (Lincoln), Robert Patrick (True Blood), Emmy Award winner Barry Pepper, Screen Actors Guild Award nominee Oliver Platt, Michael Sheen (Frost/Nixon), Paz Vega (I'm So Excited!), Michael Kenneth Williams (Boardwalk Empire), and Mary Elizabeth Winstead (The Spectacular Now).

Michael Cuesta, an Emmy and Golden Globe Award winner for Homeland, is directing the movie from a screenplay by Peter Landesman that was inspired by the books Kill the Messenger, by Nick Schou; and Dark Alliance, by Gary Webb.

A Bluegrass Films production, the movie's producers are Scott Stuber; Mr. Renner; and Naomi Despres. The film's executive producers are Mr. Landesman; Don Handfield; Michael Bederman; and Pamela Abdy.

The filmmakers of Kill the Messenger also include production designer John Paino (whose latest credit is Focus' upcoming Dallas Buyers Club), director of photography Sean Bobbitt (Focus' The Place Beyond the Pines), and editor Brian Kates (The Savages).

Mr. Schamus and Mr. Karpen commented, "The story of Gary Webb, and the story he broke, is at once thrilling, emotional, and relevant to all of us in 'the information age.' Our team of filmmakers has been tireless in working to get this movie made, and we know that audiences will empathize with Jeremy's compassionate portrayal of a man who did the right thing at great personal and professional cost."
KILL THE MESSENGER is currently shooting, and aims for a release date sometime in 2014 (my guess is around awards season).
-Vincent Zahedi
"Papa Vinyard"
vincentzahedi@gmail.com
Follow Me On Twitter