Howdy do, everyone, Papa Vinyard here.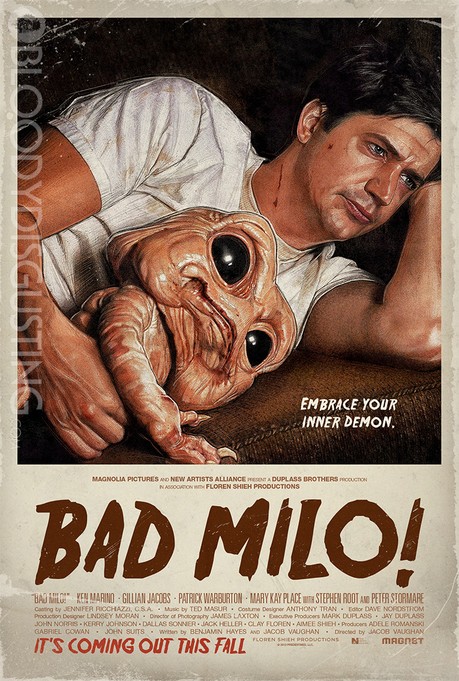 Bloody Disgusting has premiered a new one-sheet for BAD MILO (formerly known as MILO), and they're qualifying it as a contender for "best poster of the year". I don't blame them. This is more of a genuinely striking, tonally-ominous poster that we've seen for a theatrical release in recent memory. It is way less overtly campy than that poster we got back in February when the flick was still called MILO; that firmly made the flick seem like a comedy, while this makes this story of a man's relationship with the demon in his stomach seem like…something else. That tagline is genius in its simplicity and how it gets across the premise while subtly clueing you into the comedic tone of the film. And the art utilizes Ken Marino's leading man looks, as well as making it clear that his specific brand of deadpan comedy is very much a part of the product.
The poster also gives us our first clear look at the actual intestinal monster, and it's perfectly gross, but also kind of endearing. Don't those eyes look cute? I love how his arm sort of resembles a small intestine. Makes him easier to miss on an x-ray, I suppose.
Perhaps the weirdest part of the whole poster is the A DUPLASS BROTHERS PRODUCTION tag above the title. Never thought I'd see their names on a title like this, and I certainly never imagined their names being a selling point for an outlandish horror-comedy. A name's a name, I guess.
Everything I've heard about this movie is awesome, and I love the cast, which also includes Gillian Jacobs (<3), Stephen Root, Peter Stormare, Patrick Warburton, and Mary Kay Place. It seems like a higher-budget version of the fucked-up TROMA creature features I liked as a kid. Can't wait.
BAD MILO crawls out via VOD on August 29th, and theatrically on October 4th.
-Vincent Zahedi
"Papa Vinyard"
vincentzahedi@gmail.com
Follow Me On Twitter