Howdy do, everyone, Papa Vinyard here.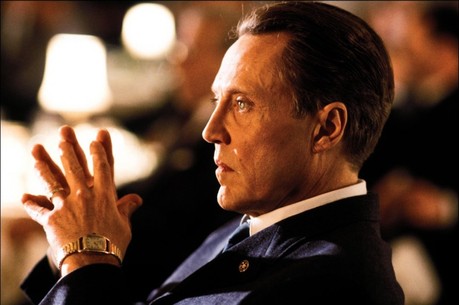 Yesterday, Deadline reported that everyone's favorite cowbell-playing, watch-protecting angel of death, Christopher Walken, is the first actor to officially sign to the big-screen adaptation of JERSEY BOYS that Clint Eastwood is directing. Walken will play Gyp DeCarlo, a mobster who acts as a liason between the Four Seasons and the mafiosos who want a piece of the up-and-coming band's action. It's a supporting role, with the main roles (and the part of Joe Pesci, who was involved in the real-life story of the group) to be filled out by stage actors who've played the characters in the various international productions of the show. Marshall Brickman (ANNIE HALL, MANHATTAN), Rick Elice, and John Logan (GLADIATOR, SKYFALL) worked on the screenplay for Eastwood, who's never directed a musical before (although he's sure as shit starred in one).
Any news involving Christopher Walken and musicals is good news. He is always a standout when he does his thing in that genre (PENNIES FROM HEAVEN, HAIRSPRAY, ROMANCE & CIGARETTES), and always impresses when he slips in some singing and dancing into his "normal" roles. If he's the biggest name Eastwood lines up for this anticipated film, he'll be in good shape, but something tells me that won't be the case.
Shooting for JERSEY BOYS should commence this year, aiming for a release date in late 2014.
-Vincent Zahedi
"Papa Vinyard"
vincentzahedi@gmail.com
Follow Me On Twitter