Howdy do, everyone, Papa Vinyard here.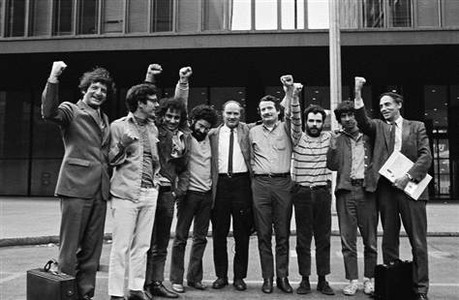 After being in development for seemingly forever since it was written back in 2007, Aaron Sorkin's project about the CHICAGO 7 has finally gained some traction. Paul Greengrass is ready to sign on to the film, which revolves around the seven activists charged with inciting riots at the 1968 Democratic National Convention, after Steven Spielberg, long attached, finally decided it was time to call it quits and move on. Ben Stiller also briefly toyed with the idea of making the film a few years back, but nothing came of it. Deadline reports that the film will have a low-to-mid-range budget, somewhere in the vicinity of $20-30 million.
No word as to who's playing the seven indicted men, Abbie Hoffman, Jerry Rubin, David Dellinger, Tom Hayden, William Kunstler, and Leonard Weinglass, as well as Black Panther co-founder Bobby Seale. Names such as Will Smith, Philip Seymour Hoffman, Kevin Spacey, and Sacha Baron Cohen have been tossed around for various roles, with Cohen actually signing onto the role of Abbie Hoffman back in '07. Hopefully, they can once again lock down Cohen, as he bears some resemblance to the infamous yippie.
Greengrass is no stranger to films with heavy political relevance, having helmed UNITED 93, GREEN ZONE, the similarly-themed BLOODY SUNDAY, and the upcoming CAPTAIN PHILIPS. He's never worked with a screenwriter with the immense clout of Sorkin, and I'm curious to see how his visual style matches up with Sorkin's dialogue-heavy tendencies.
THE CHICAGO 7 aims to start production in January, 2014.
-Vincent Zahedi
"Papa Vinyard"
vincentzahedi@gmail.com
Follow Me On Twitter