Howdy do, everyone, Papa Vinyard here.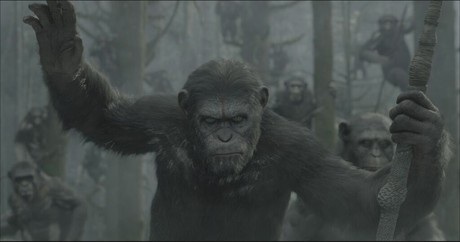 Following Saturday's trailer reveal at Comic-Con, we have a shot of said teaser that gives us our first official glimpse at DAWN OF THE PLANET OF THE APES. What we see is from a shot at the tail end of the trailer, as Andy Serkis' Caesar is preparing to lead a cadre of apes into battle against, presumably, some hateful human scum. I'd expect the final version of this FX shot to be a little more fleshed out (literally) and detailed; given that the film comes out in a year, and considering how much work goes into the mo-cap animation, I am surprised they put any Caesar imagery out there at all. They're going straight into BATTLE FOR THE PLANET OF THE APES territory here, and while they say they're leading into the chronology of the original PLANET OF THE APES, it's seeming like they're doing the APES narrative in a new, exciting way. The viral video below shows how severely they've updated the original's humanity-devastating nuclear holocaust ("YOU MANIACS!! YOU BLEW IT UP!!"), and I'm curious to see if/how they get Cornelius involved. Given how much of a left-field critical and audience success RISE OF THE PLANET OF THE APES was 2 years ago, I'm hopeful that this Matt Reeves-directed entry will have just as much of an impact. I do love seeing people loving PLANET OF THE APES!!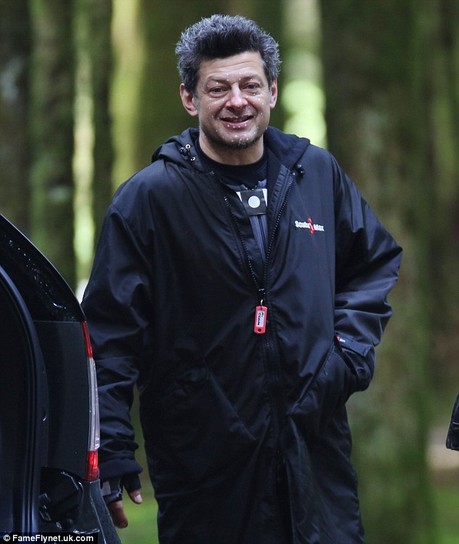 Above picture courtesy of Daily Mail.
The DAWN OF THE PLANET OF THE APES arrives on July 18th, 2014.
-Vincent Zahedi
"Papa Vinyard"
vincentzahedi@gmail.com
Follow Me On Twitter