Howdy do, everyone, Papa Vinyard here.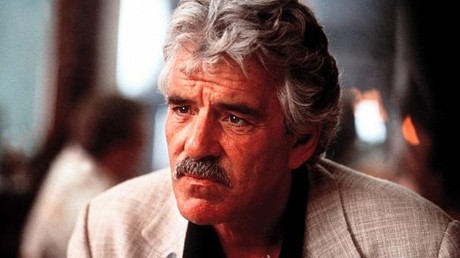 We lost an awesome character actor today. Dennis Farina passed away in Scottsdale, Arizona this morning due to a blood clot in his lung, also known as a pulmonary embolism. He was 69.
I first noticed Farina's work at the humble age of 8 in a fairly shitty Carl Reiner rom-com, THAT OLD FEELING. I didn't care for the movie, but I liked the guy in the moustache yelling at Bette Midler. He was funny. "Yes [your hair]'s perfect, if you wanna look like a madam in a saloon in Tombstone!" Over the next few years, I kept an eye out for him, and caught him in flicks like SNATCH, BIG TROUBLE, and STEALING HARVARD. Not all out-of-the-park home runs, but he always was able to make an impression with his Chicago charm, his skill with a one-liner, and that epic moustache.
By the time I dug into his past, I was somewhat fascinated with the guy. Born to Sicilian parents in Chicago, Farina was a cop for the Chicago Police Department's burglary division for almost 20 years, and through that, met Michael Mann. It was Mann who convinced him to be an actor, ironically enough casting him as a criminal in his debut feature, THIEF. By the time he did MANHUNTER (as Jack Crawford, a role he's shared with Scott Glenn and Laurence Fishburne) and TV's CRIME STORY for Mann in '86, he was acting full time. He had memorable roles in the Macbeth-by-way-of-mob-movie MEN OF RESPECT, MIDNIGHT RUN ("You and that other dummy better start getting more personally involved in your work, or I'm gonna stab you through the heart with a fuckin' pencil."), GET SHORTY ("I hear the fuckin' smog's the fuckin' reason you have such beautiful fuckin' sunsets."), OUT OF SIGHT, and THE MOD SQUAD. He wasn't as prolific over the past decade, but he popped up in flicks like PAPARAZZI (as the grizzled detective, go figure), YOU KILL ME (as yet another mob boss), and as Alan Rickman's wine-drinking buddy in BOTTLE SHOCK.
There are probably a ton of people who only know him from his stint as Jerry Orbach's replacement on LAW & ORDER, which he did from 2004-2006. He was also played my favorite character on LUCK, a devoted sidekick-partner to Dustin Hoffman's "Ace" Bernstein. His buddy-buddy relationship with Hoffman was maybe the beating heart of that show, which maybe was a little too cold and cynical for its own good. Besides CRIME STORY and LAW & ORDER, he headlined his own show called BUDDY FARO back in '98, where he played a P.I. who comes back to work after falling off the grid for 20 years. He also had a sitcom with Jean Smart called THE IN-LAWS for one season back in '02-'03. He guested on stuff from TALES FROM THE CRYPT, REMINGTON STEELE, HUNTER, CHINA BEACH, JUSTICE LEAGUE UNLIMITED (in which he played Wildcat), the miniseries EMPIRE FALLS, and NEW GIRL.
He was one of those guys who could elevate anything. With that voice, that craggled face, that 'stache, and that ever-present level of wisdom and wit, he really seemed like a dude who'd been through some real-life shit, not just some tough acting lessons and a few bum auditions. His beleaguered hitman in BIG TROUBLE, for example, is not a hilarious character on the page, but there's something about the way he plays it that you actually sympathize with this multiple-murderer who's having a really hard time with his latest contract ("I hope you realize you've just committed assault.""I know, I know. Time was you actually had to hit somebody."). His role as Karen Sisco's father in OUT OF SIGHT is just as responsible for making that character seem tough as anything Jennifer Lopez does in her actual performance. The awesome Robert Morse, playing the character on the KAREN SISCO TV show with Carla Gugino, had a similar type of world-weariness, but didn't have that edge-with-a-smile charm that Farina rattled off so effortlessly. And who doesn't love his Ray "Bones" Barboni in GET SHORTY and his Avi in SNATCH?
Farina seemed like the badass uncle that everyone wishes they had, the kind who'd teach you how to properly load a .44 but would shut you down if you talked back to your mother. He was a working actor who appeared, all too infrequently, in films that, sometimes, were maybe not worthy of his talents or efforts, but he never made it seem like he was slumming. With a taste of the real world in the back of his mouth, he never took his acting gigs for granted, and always injected some life into whatever parts he saw fit to take. He'll be missed.
-Vincent Zahedi
"Papa Vinyard"
vincentzahedi@gmail.com
Follow Me On Twitter