Howdy do, everyone, Papa Vinyard here.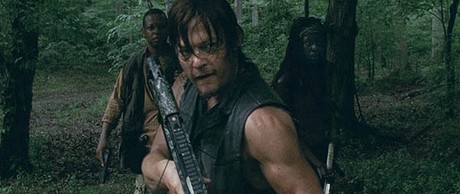 AMC unveiled this 4-minute-plus look at the upcoming season of their megahit WALKING DEAD, and it looks awesome. Behind the scenes troubles notwithstanding, this looks like a dark, intense stretch that Rick & Co. have ahead of them. While it was a good idea to let in the Woodbury folk after the events of last season, it seems that they have someone stowed away in the catacombs of the prison causing problems that lead to deaths of innocent folk (is it The Governor? Someone new? Who knows?). The prison is even less safe than it used to be. Excellent.
We get an extended look at the new character played by Lawrence Gilliard Jr. (a.k.a. D'Angelo from THE WIRE), and confirmation that fellow WIRE alum Chad Coleman's Tyreese will get a stronger role. Check out that bit towards the end of him getting hammer-happy with those walkers. Good stuff.
One thing I love about this show is how many core characters have been killed off over the course of the last 3 seasons. There were a number of times watching this teaser where I went, "Where the hell is…oh yeah. Right." Crazy how it's the same show without Andrea, Dale, Laurie, or Shane.
And you gotta love Carol becoming crucial to the operation by teaching kids how to properly play with knives. Those kind of touches really do make up for that "nothing ever happens" baloney people often accuse the show of.
(Harry here real quick - International Walking Dead fans feeling left out? CLICK HERE)
THE WALKING DEAD Season 4 starts bitin' on October 13th at 9 P.M. on AMC.
-Vincent Zahedi
"Papa Vinyard"
vincentzahedi@gmail.com
Follow Me On Twitter