Howdy do, everyone, Papa Vinyard here.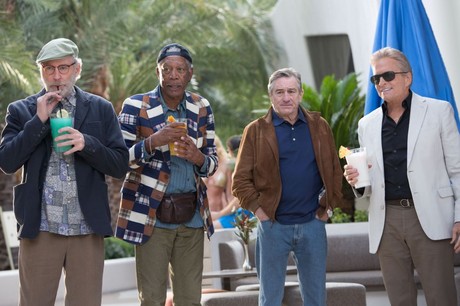 Today, we get the full trailer for the AARP-hits-Sin-City flick, LAST VEGAS, and you know, I actually think this looks kinda funny. It's certainly broad, and not all the jokes hit like gangbusters, but I laughed more times than I do for your typical studio comedy trailer, including the first one we got for this film back in May. That extended bit with Morgan Freeman preparing to jump out of his ground-floor window and Kevin Kline calling 50 Cent "P. Fiddy" make up for that oddly overlong "rotating bed" gag with Kline and Freeman that closes the trailer. This seems like ripe sleepwalking material for DeNiro, but his character gets the best lines that we see here. And maybe more than anything else, I love that the Academy Award-winning Kline has the role of the "William H. Macy in WILD HOGS" character actor running around with these way-more-famous movie stars. We don't see enough of that dude these days. And it's always awesome to see Mary Steenburgen in the mix.
Only the presence of Jerry Ferrara (a.k.a. Turtle) makes this seem like the B-level throwaway comedy that it very well could've been. Both Dan Fogelman and Jon Turteltaub have worked on some moderately enjoyable, but massively successful films, and I could potentially see this falling into that category.
I remember seeing WILD HOGS in theaters back in college, so I guess catching a matinee for this one is far from out of the question, especially if they can pump out an even stronger trailer than this before November.
LAST VEGAS goes all out on November 1st.
-Vincent Zahedi
"Papa Vinyard"
vincentzahedi@gmail.com
Follow Me On Twitter