Movie News
Galadriel, Jon Snow, and Papa Midnite join the voice cast of HOW TO TRAIN YOUR DRAGON 2!
Howdy do, everyone, Papa Vinyard here.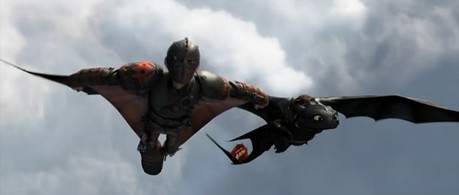 Bleeding Cool has scored a few casting details straight out of Comic-Con regarding HOW TO TRAIN YOUR DRAGON 2. Cate Blanchett joins the cast as a dragon sympathizer named Valka, who is presumably against the incorporation of the winged creatures into the human military. Possible love interest for one of the adult characters (maybe Gerard Butler's dad if we get a confirmation of his return)? Methinks it could be so.
We also got Djimon Hounsou ("GIVE US US FREE!") on board as a dragon trainer who is more focused on harnessing their abilities for battle than the benevolent Hiccup, as well as Jon Snow himself, Kit Harrington, as a pompous dragon trapper named Eret.
All three of these people have strong genre credentials. Aside from Harrington, Blanchett is, obviously, LOTR and THE HOBBIT's Galadriel, and Hounsou was a pretty killer Papa Midnite in CONSTANTINE, as well as voicing BLACK PANTHER on the BET series. All three should add some flavor to the already-impressive cast, which includes returning cast members Jay Baruchel, Craig Ferguson, Kristen Wiig, America Ferrera, Christopher Mintz-Plasse, T.J. Miller, and Jonah Hill.
HOW TO TRAIN YOUR DRAGON 2 flies into theaters on June 20th, 2014.
-Vincent Zahedi
"Papa Vinyard"
vincentzahedi@gmail.com
Follow Me On Twitter