Ahoy, squirts! Quint here. Today marked my 14th Preview night at San Diego Comic-Con.
Before heading to the floor I went across the street to visit a little ENDER'S GAME thing set up by Summit. They called it an "experience" and it was certainly more than could have fit in a booth. They kind of tell the story of Ender's journey from his life on Earth through to his training at Battle School up amongst the stars.
They did this by shipping in props and full chunks of set. I got to take the big tour with Kraken in tow, who snapped some pics for you good folks. Let's roll through them, shall we?
It started with us entering the Wiggin household, catching a look at Ender and his sister Valentine (Abigail Breslin)'s clothes as well as a series of family portraits on the mantle featuring Ender's asshole big brother Peter, played by Jimmy Pinchak.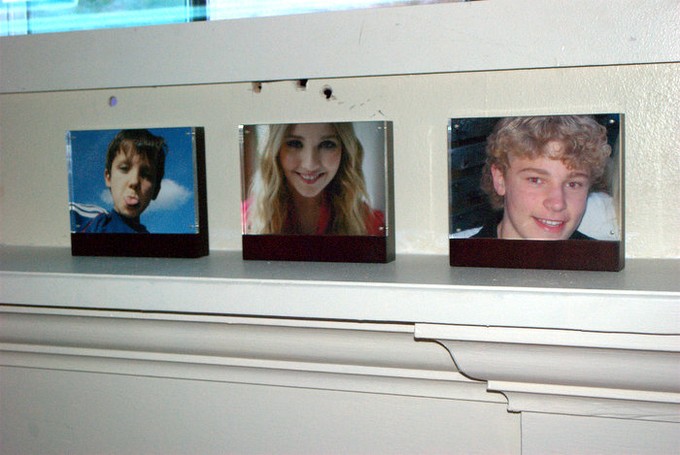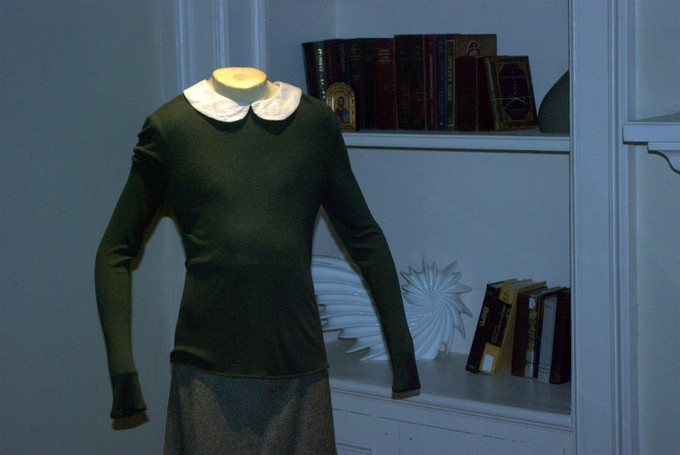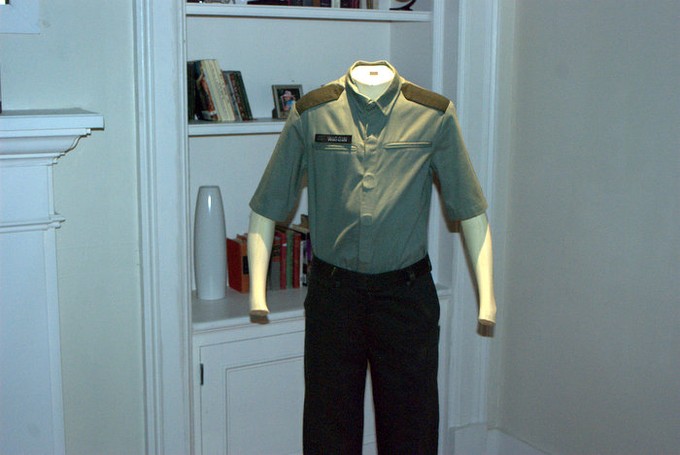 Next up were some piece of the shuttle that takes Ender to Battle School as well as his bunk: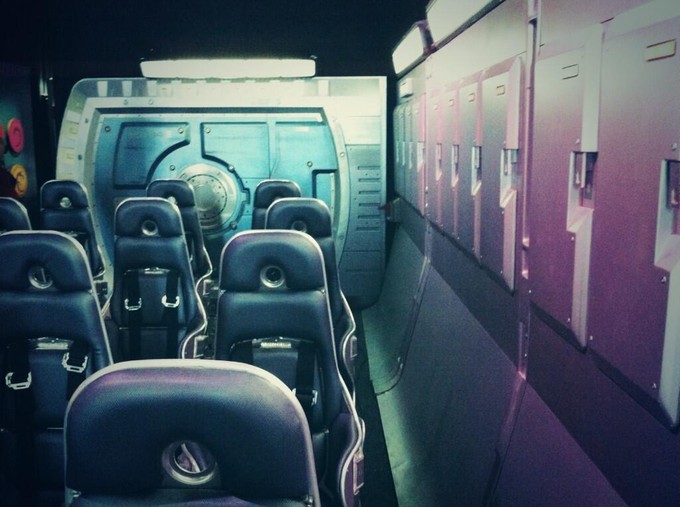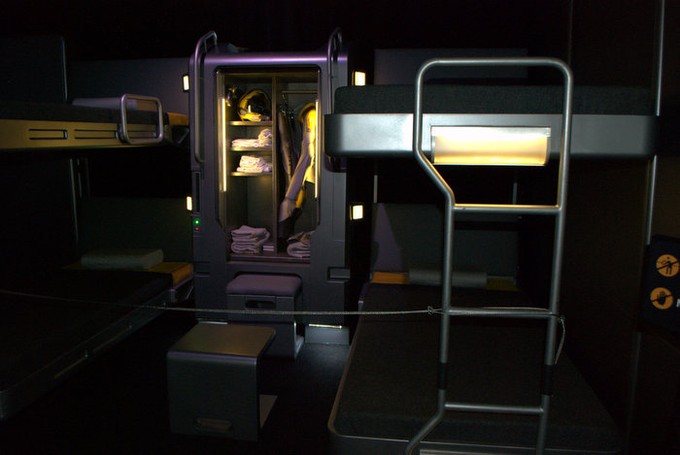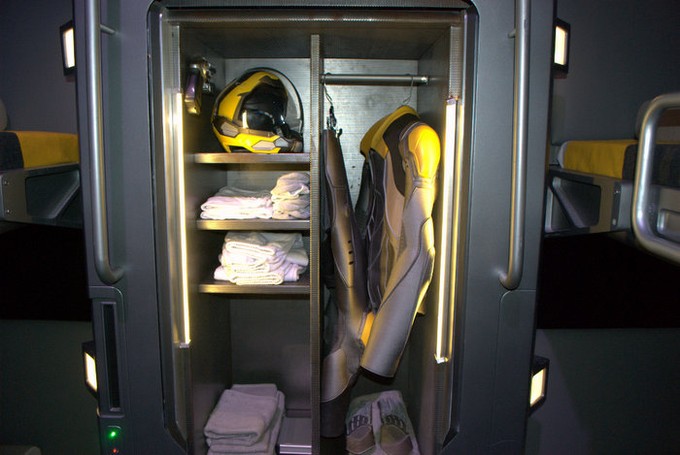 Harrison Ford plays the gruff Col. Graff (Gruff Graff?), Ender's mentor and commander. He wears clothes in the movie. These are some of those clothes: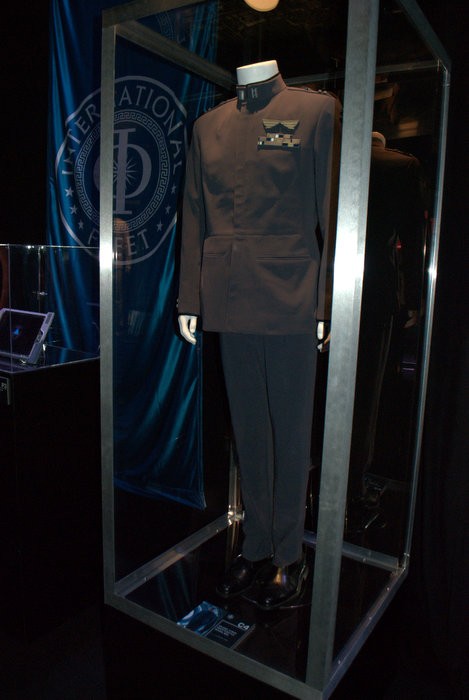 And this is Ben Kingsley's Mazer Rackham outfit: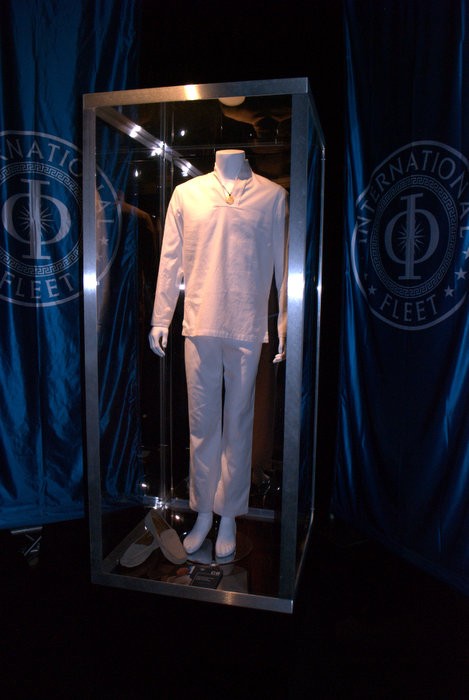 And a Battle School futuristic learnin' desk.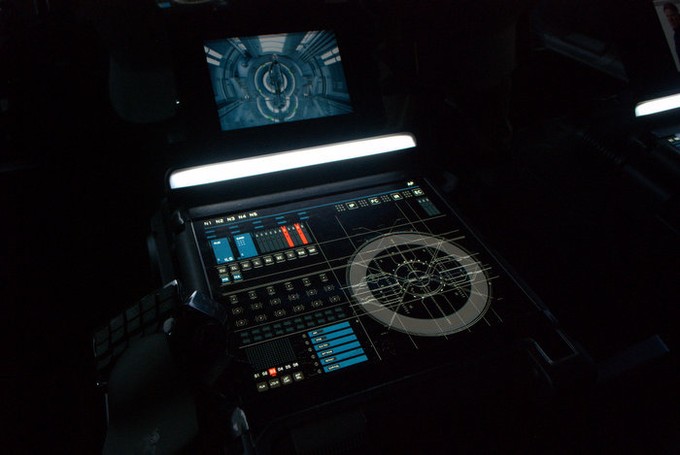 Now we're getting into some of the fun stuff... the Battle Room. It's a place where these kids learn about working as a group, how to think in three dimensions and all while playing a fucked up kind of laser tag. We begin with a one of the doors (or gates) and follow it through with all the army logos and a star (which is kind of a strategic floaty thing to hide behind).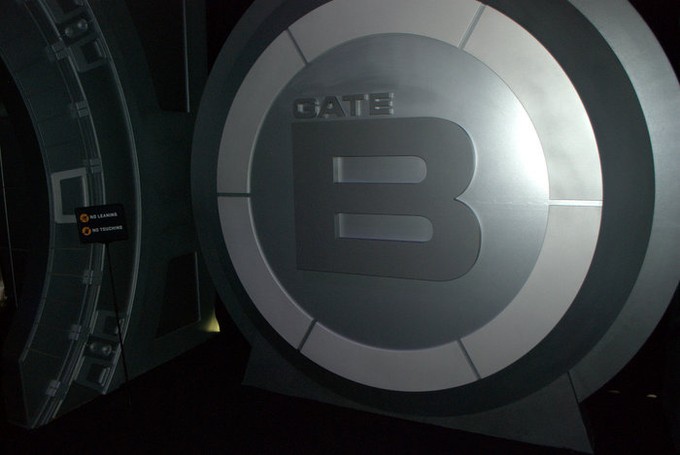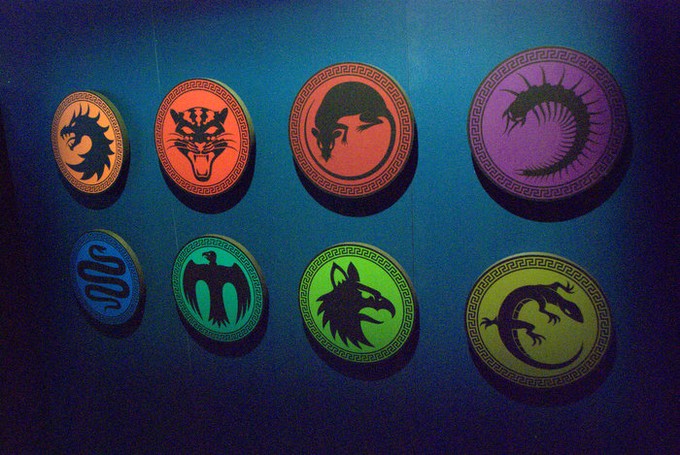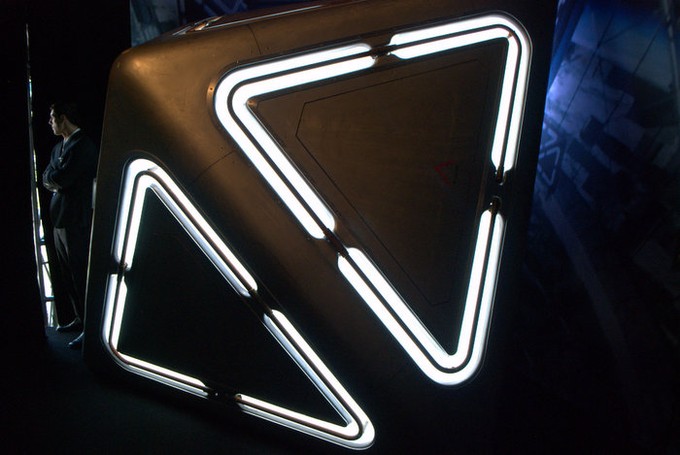 And finally we'll take a close look at Ender's Dragon Army Captain suit and a closer look at his flash gun, which is the main weapon of these games. When hit by a bolt it locks up your suit, rendering you unable to continue (or giving you an advantage if you strategically stun some non-crucial parts of your body to use as a shield).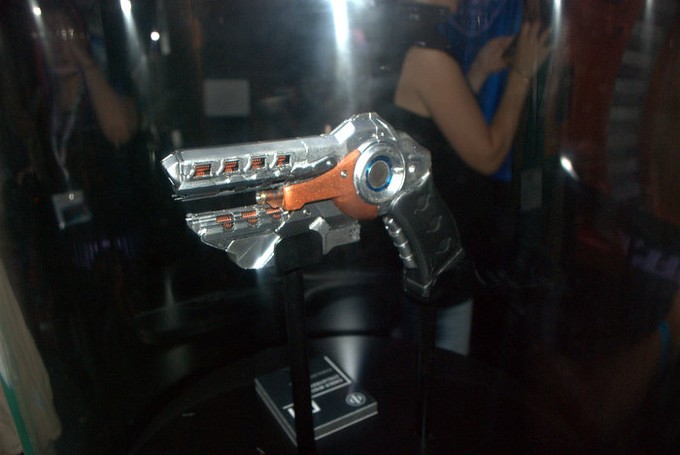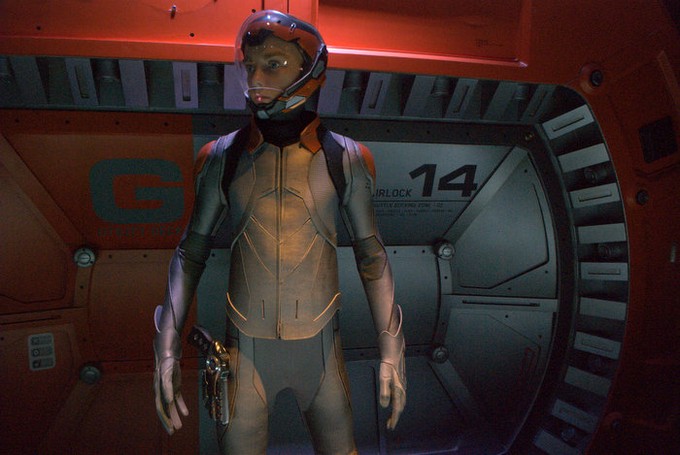 I got done with this stuff just in time to hit the convention center before the doors opened and preview night began in earnest.
I remember back in 2000 getting into preview night was a big deal because you'd get a full day's jump on exploring the convention floor before 99% of the attendees. There were no crowds, no people suddenly stopping for no apparent reason right in front of you and did I mention no crowds?
That hasn't been the way of the con for years and this year was no different. The line to get onto the floor was wrapped around the upper hall, an easy five to six thousand people strong. One of the advantages of being an old Con regular is I've built up a few tricks and I was able to worm my way onto the floor a couple minutes before the masses were let in... and it was a good thing, too.
Listen, I love Sideshow and Gentle Giant and Mattel and Hasbro, but there was only one SDCC Exclusive toy that I had to own, so I made my way immediately to the NECA booth and jumped in a line of Exhibitors already gathered to scoop up my only must-have.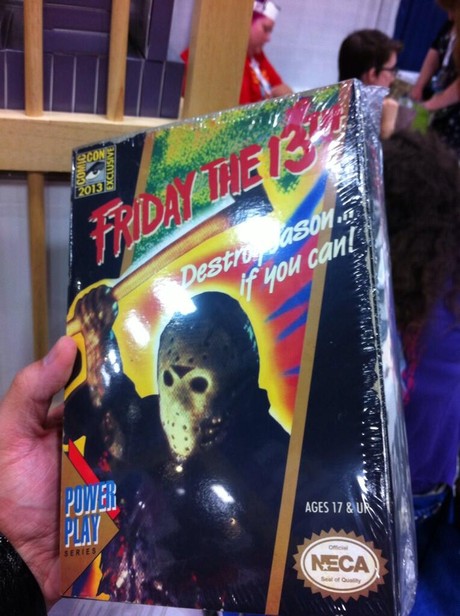 Many of my elderly friends will recognize that as being the most fucking hard bullshit video game ever made. The NES Friday the 13th game was impossible to beat. I have friends that claim to have beaten it and all I can assume is that they cheated or are horror game Bobby Fishers because this piece of shit... You had to throw rocks at zombies and search through cabins at Camp Crystal Lake and sometimes, seemingly at random, Jason would pop up and ruin your day.
I guess in a way that makes the NES Friday the 13th game the most accurate-to-life horror game ever made because I'm pretty sure I'd last about as long against Jason in real life as my many dead camp counselor avatars.
So, when I heard NECA was putting out a toy version of the NES Jason (glow in the dark, no less) boxed in the original NES packaging... well, I just had to have it. Here's what the inside looks like: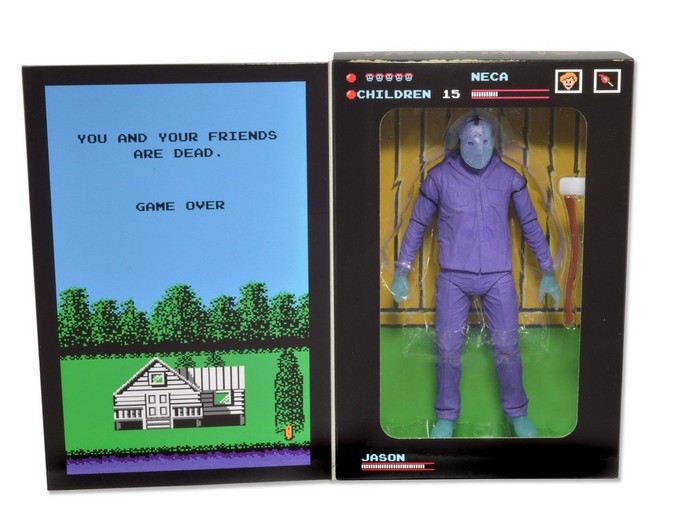 "You and Your Friends Are Dead." Fuck you, game. Fuck you!
NECA had some more cool shit that I'll show you below. Pacific Rim, Borderlands 2, Alien, Aliens, Predator and Gremlins to name a few. Of them all, my favorite is perhaps the Predator Vision version of Dutch, but the upcoming 35th Anniversary Alien toy was fucking crazy. It's huge, comes in a section of a Nostromo hallway and even has Ripley's shithead cat to keep him company. Check them out: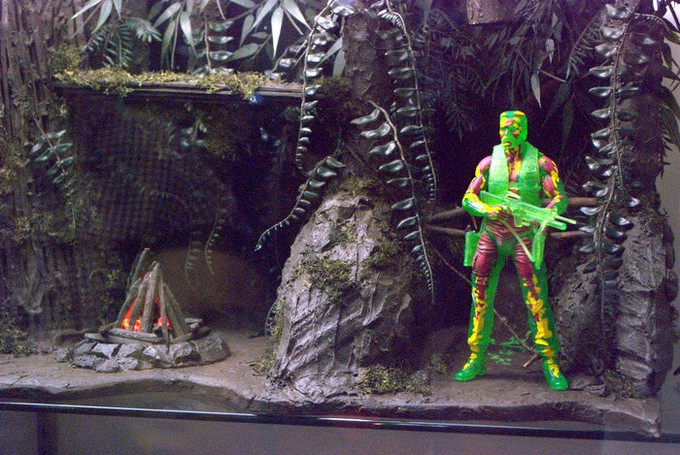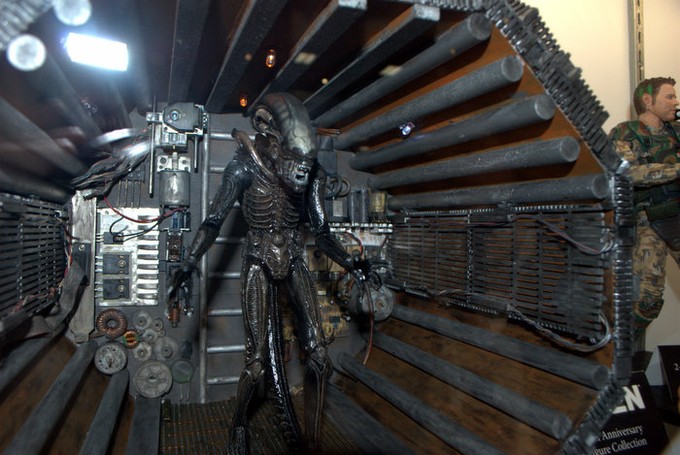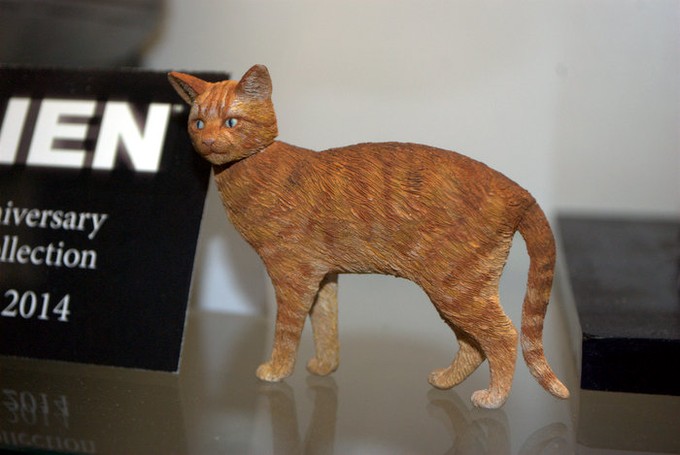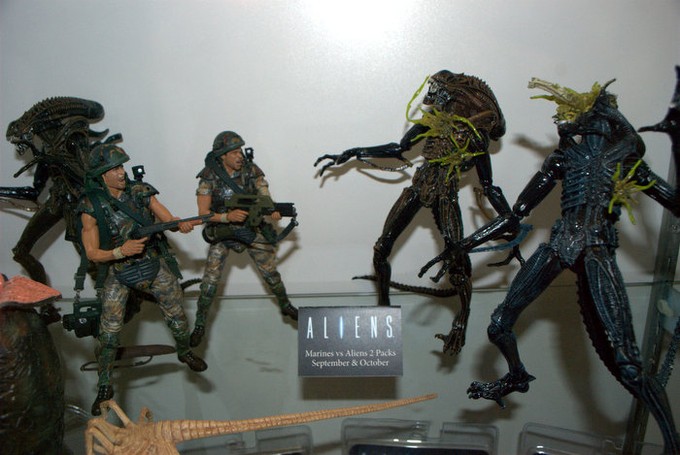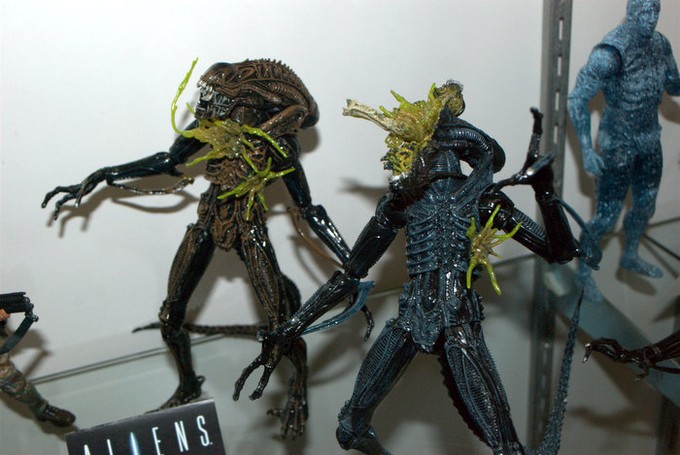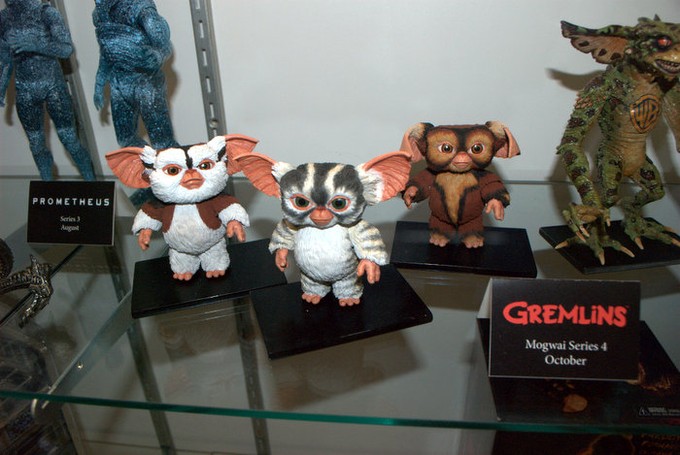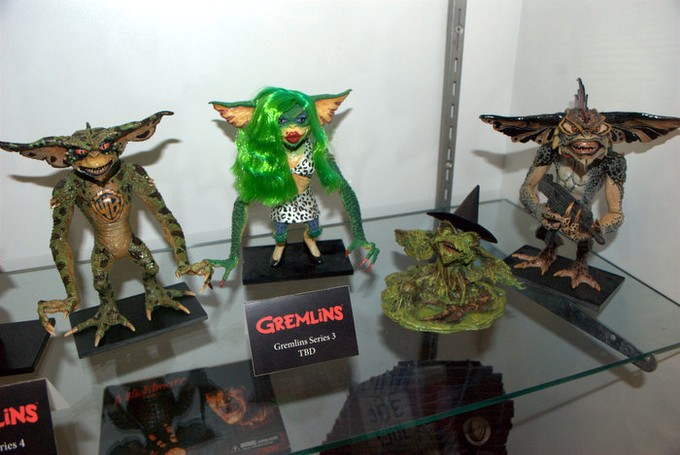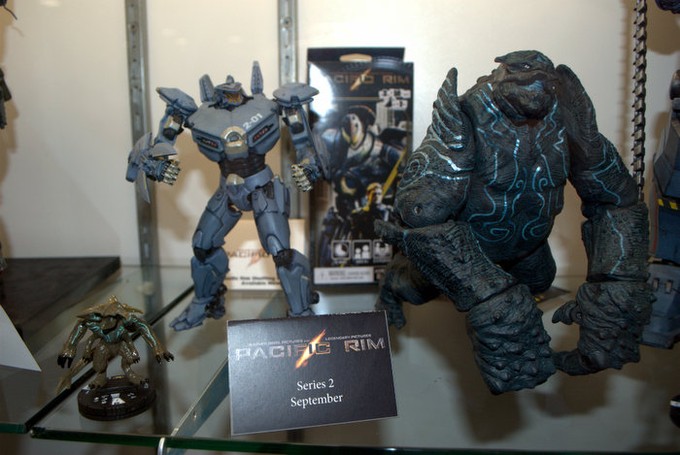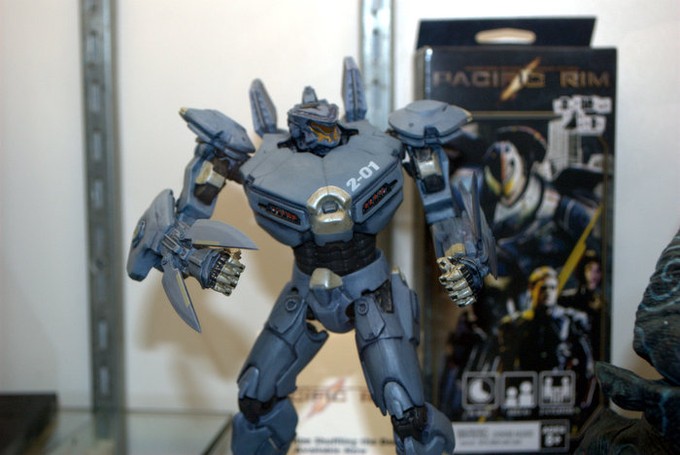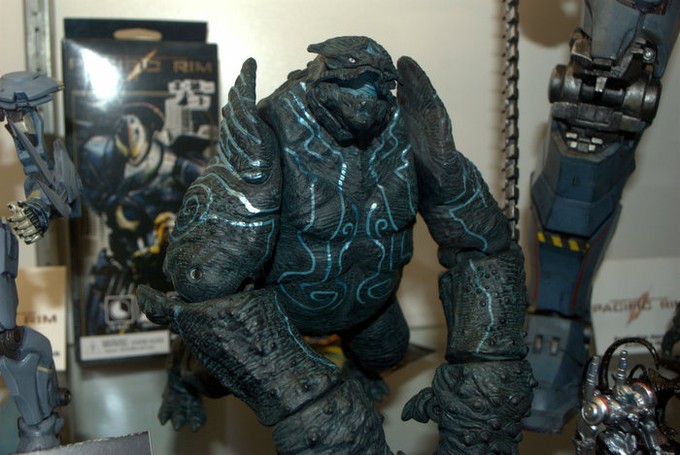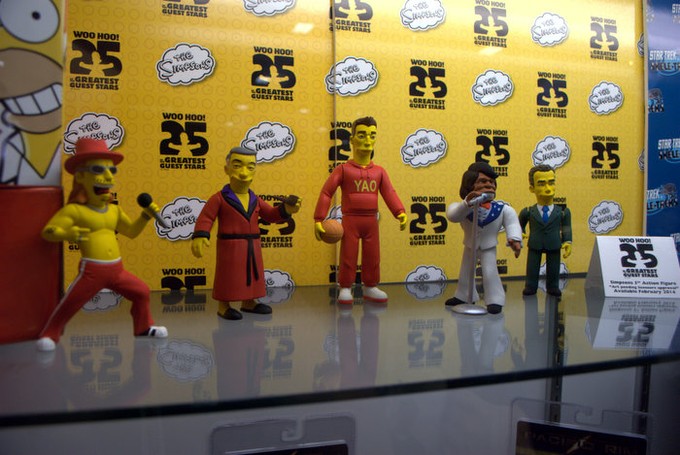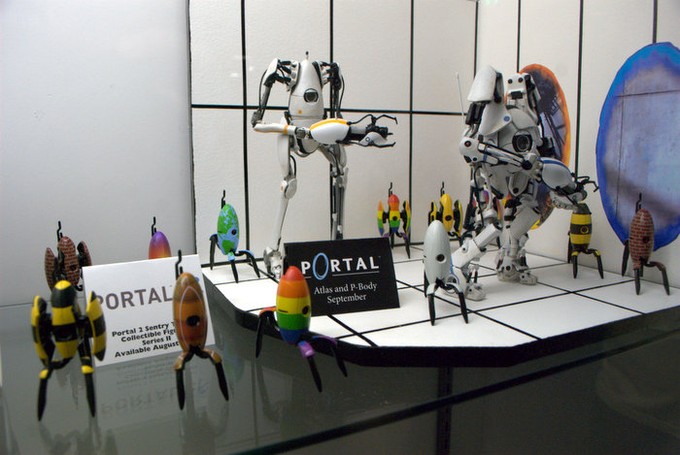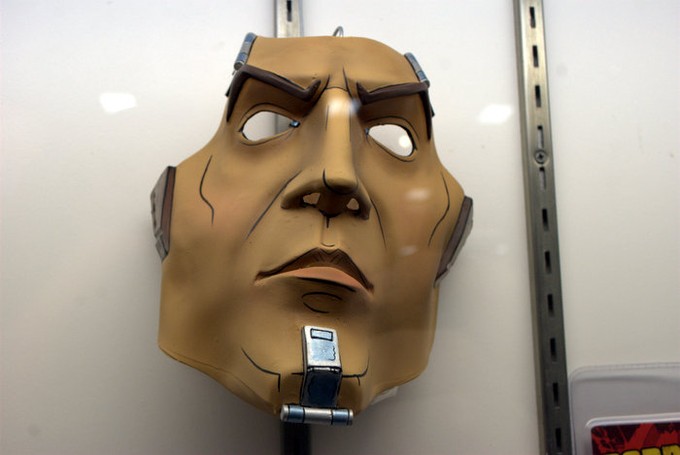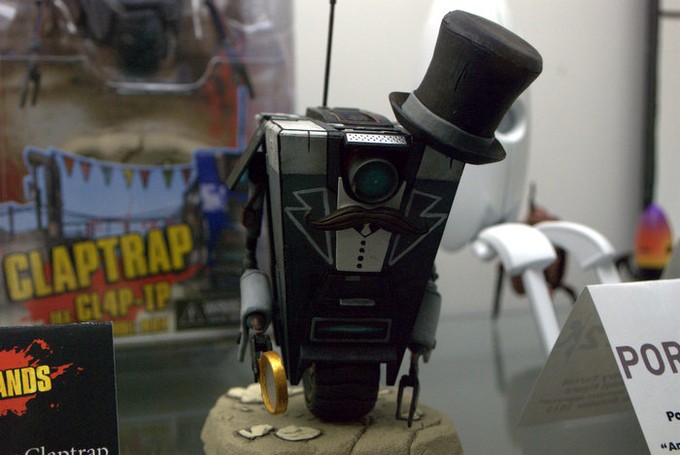 Sideshow was my next stop. You are going to see some cool shit below. Expensive shit, but cool shit nonetheless. There's Spidey and Gwen, a Premium Format Battle Damaged T-800 (that comes with a badass accessory that I'll let you discover yourself below), a great Mignola Hellboy statue and some Hot Toys goodies, including Iron Man 3's Mandarin, a giant ED209 and an Evil Superman from Superman 3 which has been seen before, but is way too cool not to include.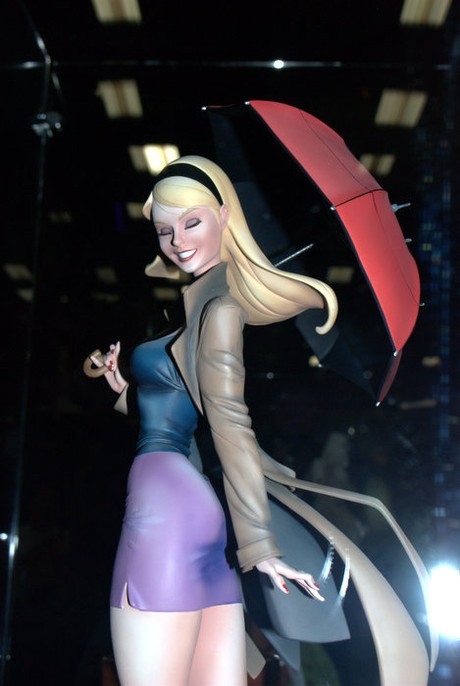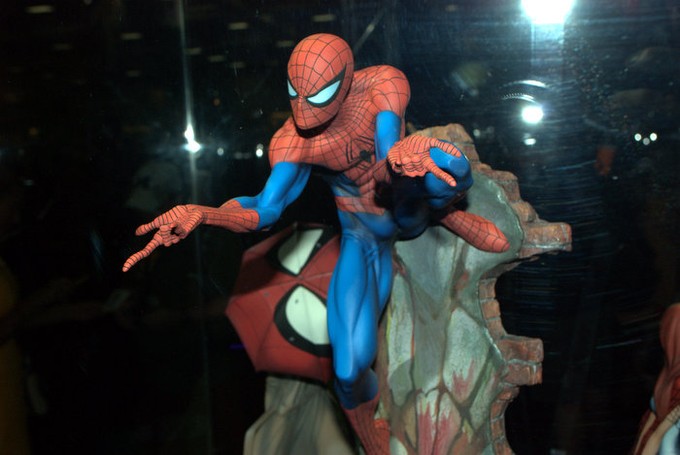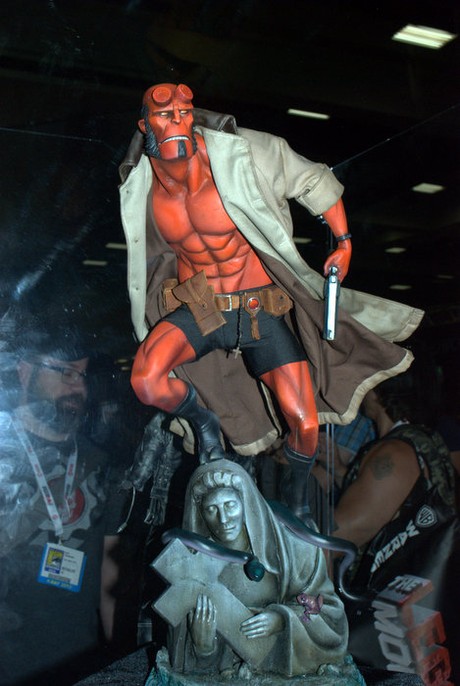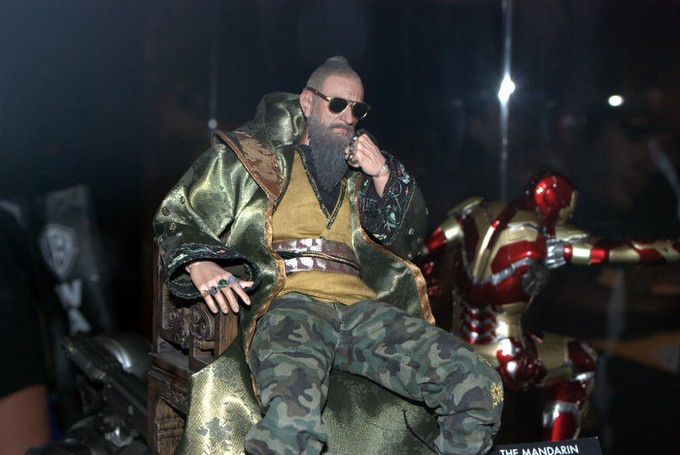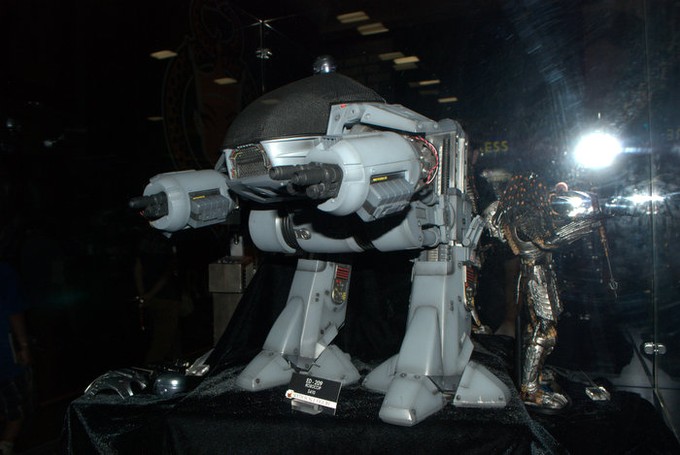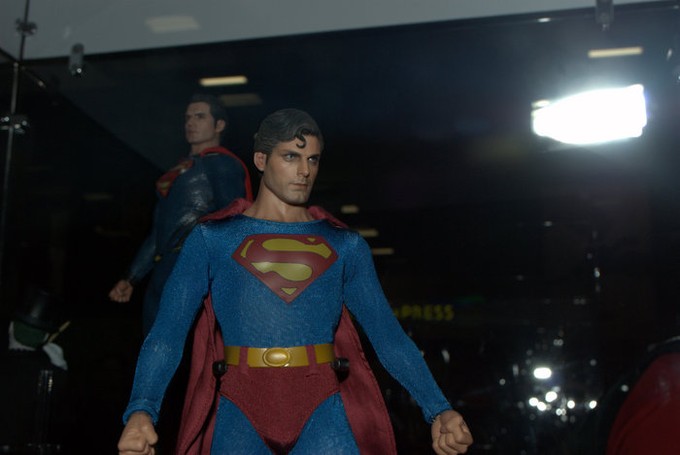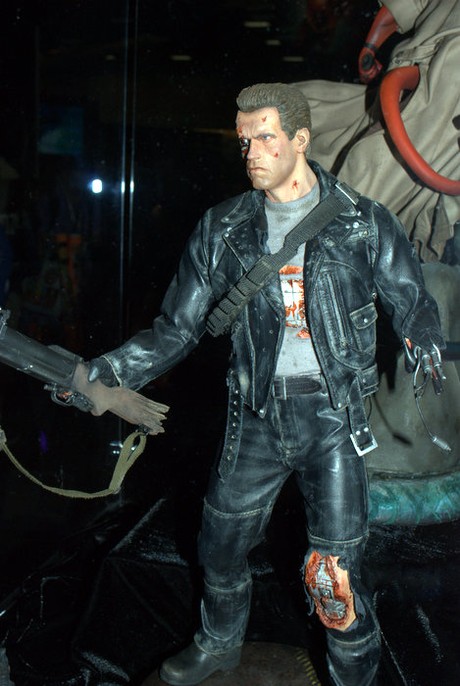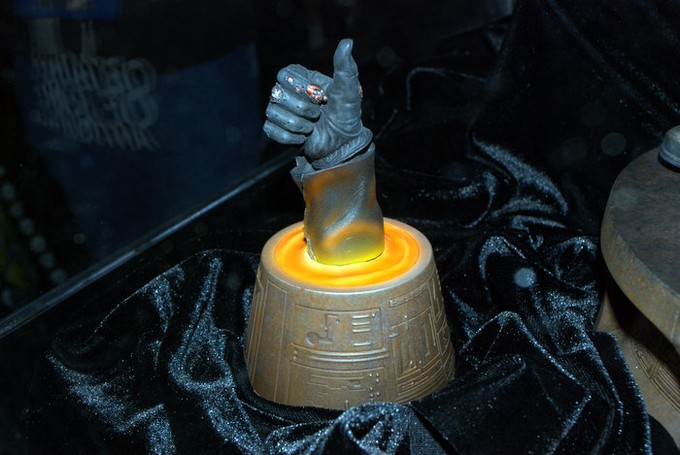 It was around this time I ran into Mondo's Justin Ishmael and we teamed up to go look for some cool shit. Mondo was in the midst of selling a crapton of Pacific Rim posters and since I'm a big fan of segues, let's use that to show you some Pacific Rim costumes on display at WB/Legendary's booth: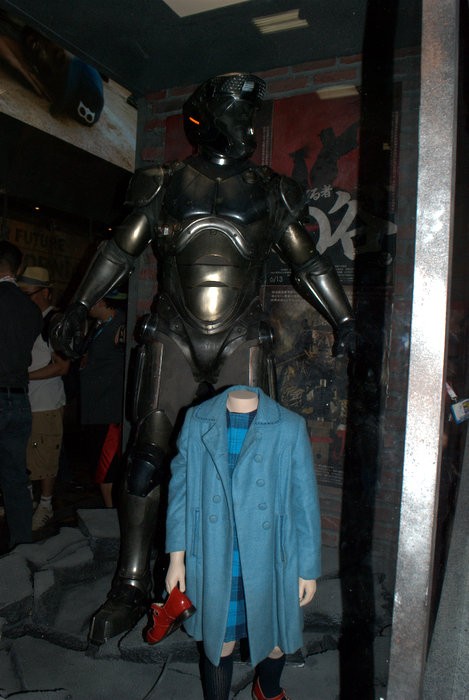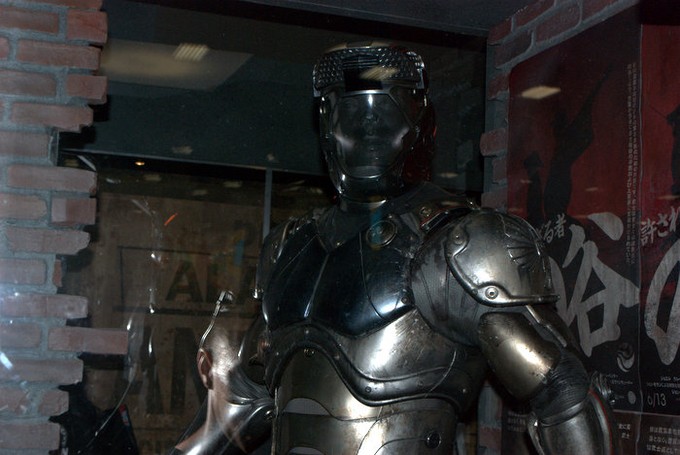 The Walking Dead has made it a habit to set up a cool booth. This year was no exception as AMC recreated a big square of the prison from last season complete with a Rick Grimes dummy up top overlooking the zombies roaming the inside, ready for creepy photo-ops.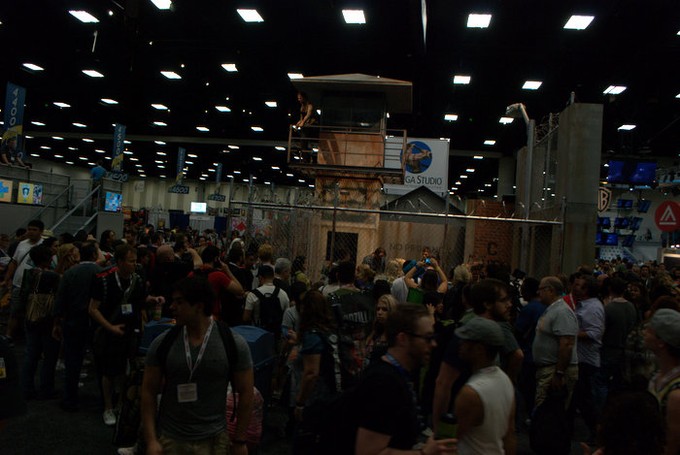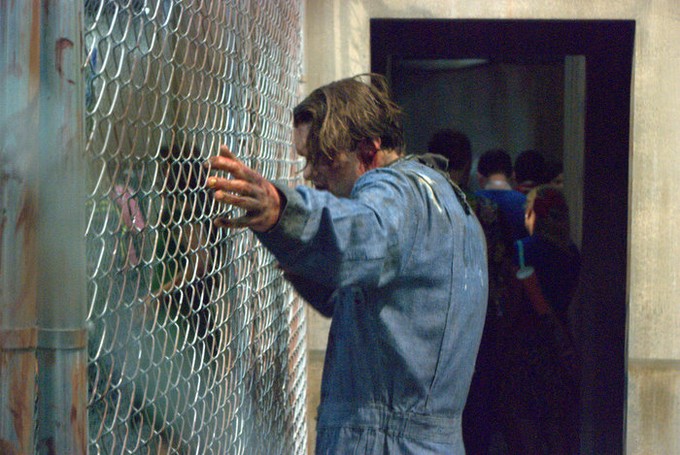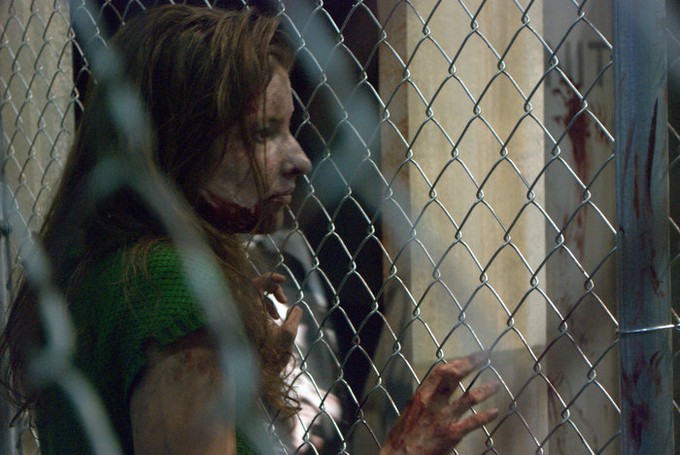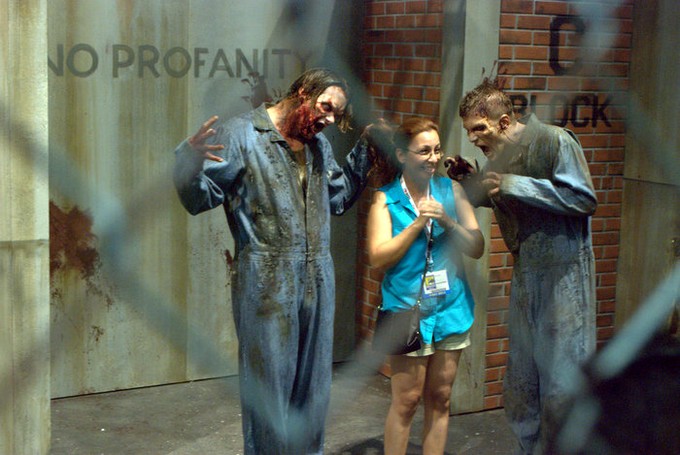 Walking by the Weta booth, I was confronted by Greg Broadmore's floating head. Let me explain. Greg Broadmore is a fantastic artist housed by Weta Workshop. He's the guy behind the Dr. Grordorts line of ray guns and has done amazing production art for all the big Weta shows. Like almost everyone else at Weta he's also super nice.
That doesn't explain why I ran into his floating head, though. The Weta guys brought in some robotic devices that allow a user to remotely steer while looking out of an iPad-like screen at the top of a long arm. This thing is like Facetime and allows someone not in the convention center the ability to move along the floor and talk to people. So it was that I ran into Greg's face. He was in his hotel a bit down the road, but he showed up later and told me he hopes to have some folks from New Zealand piloting these guys.
Remember me saying I liked segues? Well, since I brought up robots... How about a look at one of Weta's Elysium bots?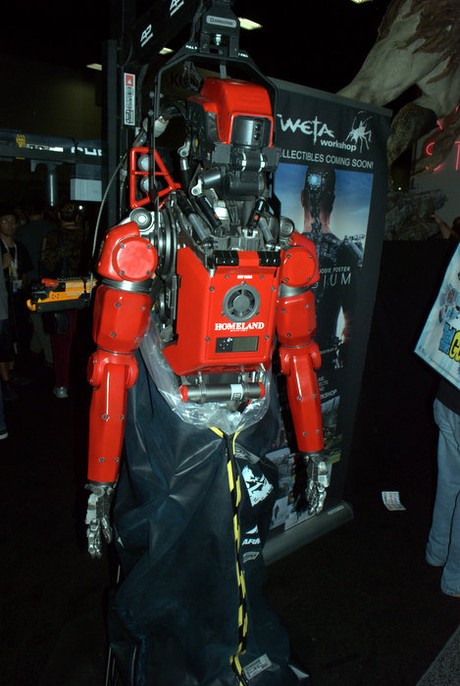 I'm crazy excited for that movie, by the way.
But the robot love didn't stop there. I guess the below are more like exo-suits, but still... close enough for my segue flow to work, damn it! Tom Cruise's upcoming Edge of Tomorrow (Formerly All You Need Is Kill) had a couple of these bad boys on display. They definitely look Blomkampy, but I'm all for more gritty sci-fi action flicks... Check 'em out: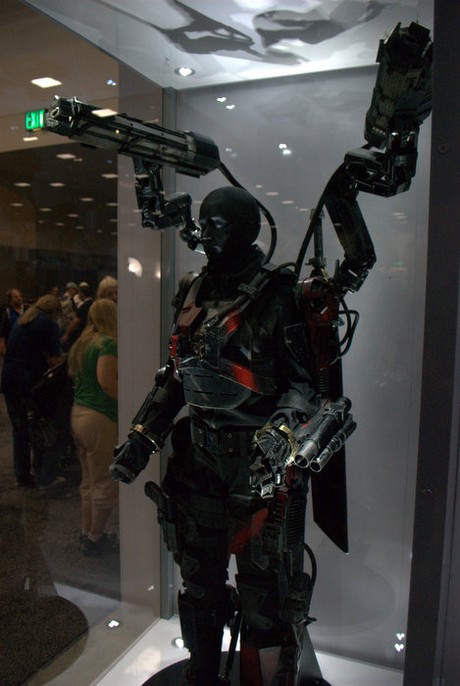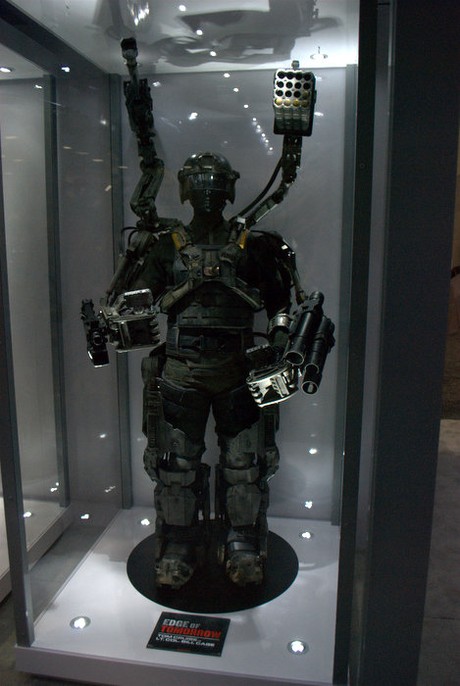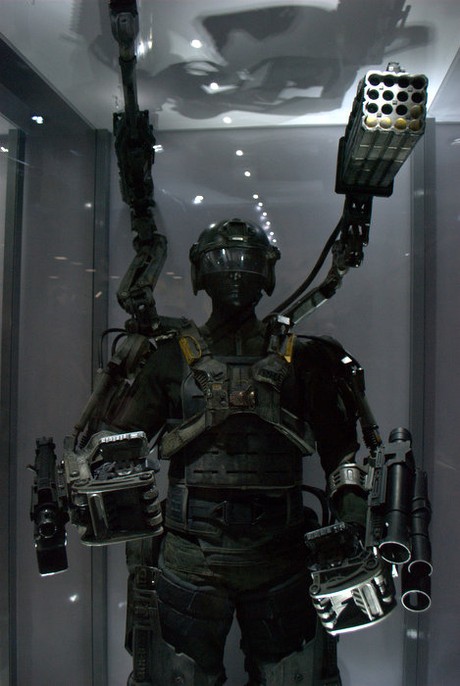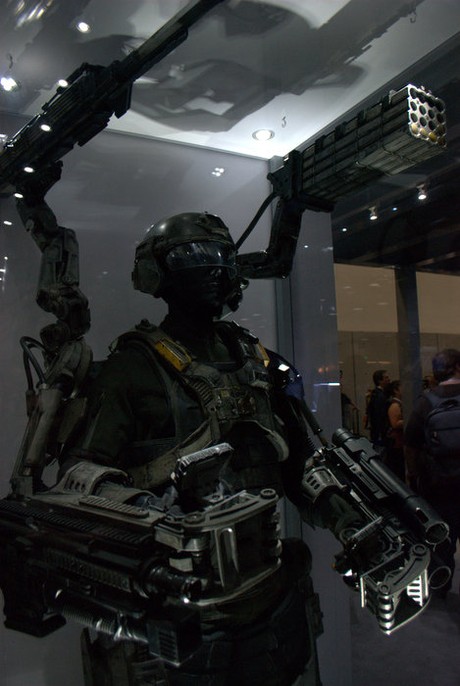 Before I left preview night I also stopped by the Xbox One and PS4 booths to try to get some play time in. I was able to play a little bit of RYSE on the Xbox One, but was too late to play the PS4. I did get to hold the PS4 controller, though, and gotta say it's a much needed improvement over the PS3 controller. There's weight to it and the buttons seem to be slightly more intuitive although hardly changed from the previous version. It just feels neater if that makes any sense.
Xbox One's controller also had a bit more weight than its predecessor and not in a bad way. There was some funky and (I think) unneeded changes to the left and right bumpers. They're pointy now and it's not an easy, thoughtless, transition between the triggers and bumper buttons anymore. Could be my clumsy fingers weren't used to this small change, but my knee-jerk is that it's going to get annoying really fast.
It also didn't help that RYSE's playable demo was pretty lame. The graphics looked fine, but it certainly didn't blow me away. As an Xbox fanboy this was a bit of a sad end to the day, but I have both the One and PS4 pre-ordered, so I'm covered come November.
That was my Day 0 at Comic-Con. Day one starts tomorrow with a bang in one of the more intimidating interviews of my life and continues on in typical chaotic geeky cool Comic-Con fashion. Keep your eyes peeled here for full reports and make sure to follow me on Twitter for my immediate reactions/twitpics/selfies/food pictures from the Con.
-Eric Vespe
"Quint"
quint@aintitcool.com
Follow Me On Twitter