Howdy do, everyone, Papa Vinyard here.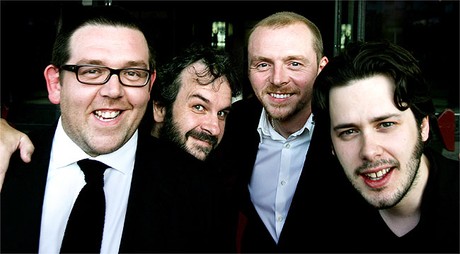 THE WORLD'S END drops in New Zealand tomorrow (July 18th) and in anticipation, Peter Jackson sat down with Edgar Wright, Simon Pegg, and Nick Frost to discuss the filmmaking process of their final entry in the "Blood and Ice Cream/Cornetto Trilogy". The piece gets more into Wright and Pegg's motivation for writing the film than your typical puff piece, as they discuss their pub-hopping days in the late-'90s/early-2000's that inspired the screenplay. Nick Frost doesn't have as much to contribute as his pals, given that he didn't have as big of a behind-the-scenes role on this one as Wright and Pegg, but the personal tidbits we get more than make up for his silence. It's a cool, relaxed chat that contains what seems like genuine praise from Jackson's part and a sense of intelligence and enthusiasm from the three Brits we love so much. More than anything, the video is some extra (mostly spoiler-free) juice to fire you up for the film (as if you weren't excited enough already).
THE WORLD'S END occurs on August 23rd.
-Vincent Zahedi
"Papa Vinyard"
vincentzahedi@gmail.com
Follow Me On Twitter