Howdy do, everyone, Papa Vinyard here.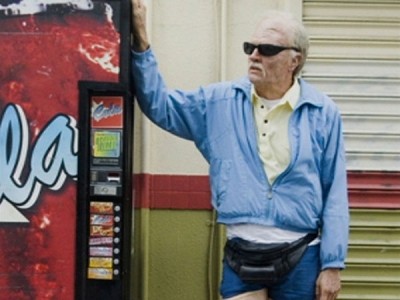 Just when you thought the Jackass crew was down for the count (or not, considering JACKASS 3D made $170 million on a $20 mil budget), Paramount and MTV have announced that they are releasing JACKASS PRESENTS: BAD GRANDPA on PARANORMAL ACTIVITY 5's former release date of October 25th. They've apparently already shot the film, revolving around Johnny Knoxville's raunchy, anarchic Irving Zisman character, but there's no word yet as to whether the film will be a narrative or a collection of sketches, or even who directed the damn thing. What we can ascertain is that it will have Knoxville going around doing fucked-up shit in old-man makeup, with or without his wife or his seriously corrupted grandchildren.
I guess that Ryan Dunn's death put the kibosh on any further legit JACKASS sequels, and developing their material into properties like this is the way that these guys will keep the franchise (and the madness) going. I think the Bad Grandpa bits we've seen thus far are hit or miss, but the ones that hit are pretty hilarious. It is tickling to see people's both active and passive reactions to Knoxville's wacky, creepy antics. We can only hope the flick will follow the footsteps of fellow BAD films BAD SANTA and BAD TEACHER (as well as the three existing JACKASS films) in being a laugh-filled revel in the world of debauchery and nihilistic amorality. Or, at least, that Knoxville got his ass kicked on camera for us again.
JACKASS PRESENTS: BAD GRANDPA forgets his adult diapers on October 25th.
-Vincent Zahedi
"Papa Vinyard"
vincentzahedi@gmail.com
Follow Me On Twitter