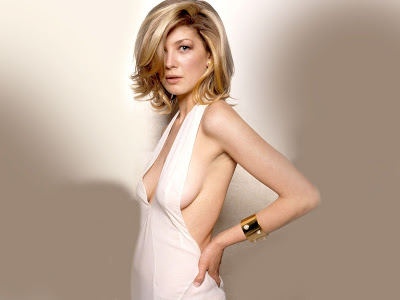 Beaks here...
David Fincher is plowing ahead with his adaptation of Gillian Flynn's 2012 bestseller GONE GIRL. We learned last week he's got his leading man in Ben Affleck. Finding a leading lady, however, has proven a bit of a challenge. Reese Witherspoon is producing the film, but has no interest in playing the wife who mysteriously disappears. Natalie Portman, Charlize Theron and Emily Blunt have also allegedly passed.
I don't know how you pass on a Fincher film starring Affleck, but, according to The Hollywood Reporter, this flurry of rejection might be Rosamund Pike's gain - to which I say "Huzzah!" Pike, who'll next be seen in Edgar Wright's THE WORLD'S END, is a fantastic actress who's done some terrific work in lesser seen films over the years (especially the underrated BARNEY'S VERSION, which came and went in a flash at the end of 2010). Whether she's perfect casting for the character in Flynn's novel is a question I'll leave to the fans of the book.
Flynn is adapting her own novel. GONE GIRL is expected to begin production this fall.