Hey, guys. Quint here. I'm on the ground in San Diego and experienced the Godzilla Encounter last night along with a few other outlets, including Deadline, which snapped the below picture when they weren't supposed to. So, I want to give a little context. This is not an "official reveal" although it is the design of the monster. When I say it's not an official reveal, I mean that I guarantee the filmmakers wouldn't have wanted their big star to be revealed from a cell phone snap instead of a carefully chosen picture to truly kick your ass.
I'll have a full write up of the crazy stuff Legendary has built up around this big climactic moment here in a bit (started it last night, but I had been traveling since 3:30am and literally fell asleep while writing it. But the short version is that they built up a small Tokyo inside a warehouse where there are overturned police cars and loving homages to Godzilla as an icon, from screen used suits to props to a bank of TV monitors alternating between static and previous Godzilla film clips. There's a Ramen bar, a comic shop and tons of great easter eggs to take in before an alarm goes off and you're rushed into an elevator, past radiation suits and monitors tracking the monster, and taken to the top floor, which is an office recreation that has a dark, rainy deptiction of the San Diego skyline past the blinds and out the window. Naturally Big Green walks through, gives us the stink eye and roars before taking off.
What you see below is a cell phone snap of that moment, through the blinds, through a pane of glass with rain water seeping down to give the illusion we're looking out a window instead of at a row of very large monitors.
So, that is a glimpse at Legendary's Godzilla, but it's in no way their proud reveal of their big star for all the internet to see. It's part of their interactive set-up somewhere in the Gaslamp District for fans to see firsthand.
Let me get back to my original story on it, but that's the quick version of what the below picture is.
Hey Yo, Draven here.
Deadline revealed this image which depicts the reptilian titular monster, GODZILLA: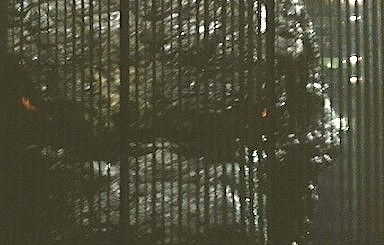 This image is a little underwhelming, as I (and I assume you too) was hoping we would get a complete look at GODZILLA. Although, I am sure this is just Warner Bros whetting our appetite before they pull the curtains back this weekend at Comic-Con. They are going to be showing some GODZILLA footage at the Warner Bros panel on Saturday.
What do you guys think of this image? What are you hoping for when the reveal GODZILLA's full look?
And an extra treat here with some concept art (thanks to Skreeonk) that should give you a good idea of the scale they are going for:

May 16, 2014 can't get here soon enough.
Follow me on Twitter here!