Howdy do, everyone, Papa Vinyard here.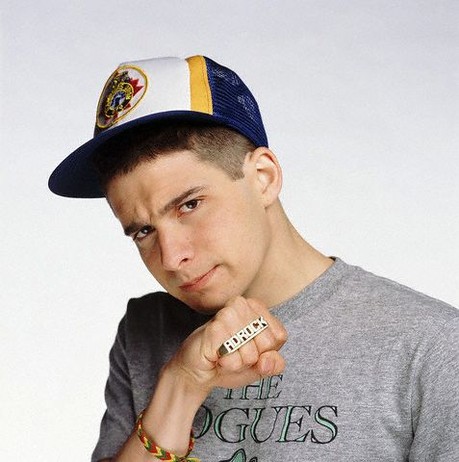 Now THIS is "Cool News". Beastie Boys member Adam Horovitz, a.k.a. King Ad-Rock, is in talks to join Noah Baumbach's latest project, WHILE WE'RE YOUNG, according to The Wrap. The rapper/guitarist/former mischief maker would play, ironically enough, a stable family man who questions Ben Stiller and Naomi Watts' characters as they engage in a bizarre, mid-life-crisis-y relationship with a young couple played by Amanda Seyfried and Adam Driver.
This wouldn't be the legendary musician's first go-around in front of the camera; he had a spurt of late-80s/early-90s roles in movies like A KISS BEFORE DYING, ROADSIDE PROPHETS, and as a co-lead opposite Donald Sutherland in LOST ANGELS. But it would be his first major role in over twenty years, and his first since the disbanding of the Beasties following the death of Adam Yauch a.k.a. M.C.A. last year. As a lifelong fan of his massively influential former crew, I have nothing but high hopes for this new career venture. Lest we forget, Yauch's Oscilloscope Laboratories has brought us movies like THE MESSENGER, WE NEED TO TALK ABOUT KEVIN, MEEK'S CUTOFF, and RARE EXPORTS: A CHRISTMAS TALE, so I hope that Horovitz will have just as much to provide the world of cinema in whatever capacity he sees fit. One thing's for sure, this news just bought my ticket for Baumbach's latest.
How could we forget that the Beastie Boys had made their own PACIFIC RIM 15 years before GDT?
WHILE WE'RE YOUNG begins shooting this fall, and will presumably release late next year.
-Vincent Zahedi
"Papa Vinyard"
vincentzahedi@gmail.com
Follow Me On Twitter