Howdy do, everyone, Papa Vinyard here.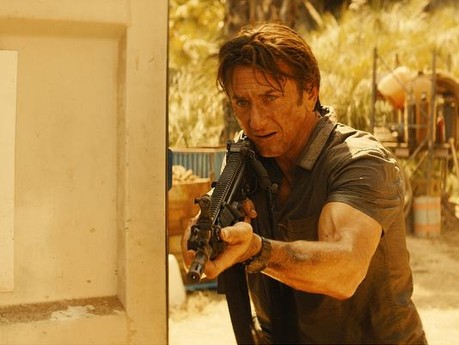 Today, we get our first peek at Sean Penn's Jim Terrier in the upcoming Pierre Morel actioner THE GUNMAN, and it looks like ol' Spicoli is getting ready to buck down some fools with that automatic in his hands. He's playing a former merc who gets sucked back into the dirty business of government-sanctioned violence involving Javier Bardem's shady businessman and Idris Elba's mysterious assassin. Penn's looking like he's following Liam Neeson's Pierre Morel-ification into a 50-ish action lead quite nicely. He's lookin' less troubled, broody mumbler and more steely-eyed determination here, and given his pedigree, I can't imagine he won't invest this guy with more personality than is usually granted to tough-guy stars.
And the dude's got some arms, no? I mean, I guess he probably got in shape for the boxing stuff in GANGSTER SQUAD, but it's cool to see the eclectic actor meld so seamlessly into another character type and genre than we've seen him do before.
THE GUNMAN is currently shooting, with a probable release date sometime next year.
-Vincent Zahedi
"Papa Vinyard"
vincentzahedi@gmail.com
Follow Me On Twitter