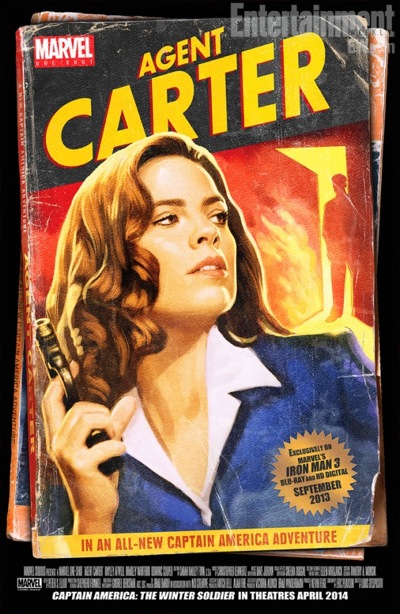 Beaks here...
Following up on the buzz-building success of last year's "Item 47", Marvel is set to unveil a new short film at next week's San Diego Comic Con. This time, they're having Hayley Atwell reprise her role as SSR operative Peggy Carter, whose ill-fated romance with Steve Rogers was a surprisingly resonant component of 2011's CAPTAIN AMERICA: THE FIRST AVENGER. This is a terrific idea. Now that Cap has moved on to the present day in the forthcoming CAPTAIN AMERICA: THE WINTER SOLDIER, this is probably the only way we'll get to see Peggy battle bad guys in the prime of her life. And judging from these images debuted today by EW, it looks like she's more than up to the task.
The short will premiere Friday, July 19 at Comic Con, and will revolve around Carter's efforts to "get" Zodiac. Here's how Marvel co-president Louis D'Esposito explains it:
"Zodiac in the books has been many many different things," D'Esposito says. "We just want you to know it's deadly, it's important, bad guys are guarding it, and it's imperative she gets it."
Carter will also butt heads with Agent Flynn (Bradley Whitford), a sexist higher-up at SSR who is vehemently against women dabbling in the secret agent trade. For more on the short (which will also be included on the IRON MAN 3 Blu-ray), check out EW's article. Below are the brand new stills.