Hey guys! Horrorella here...
The Dissolve premiered a brand-new one sheet today for Fantastic Fest fave, I DECLARE WAR. And it's pretty awesome-looking.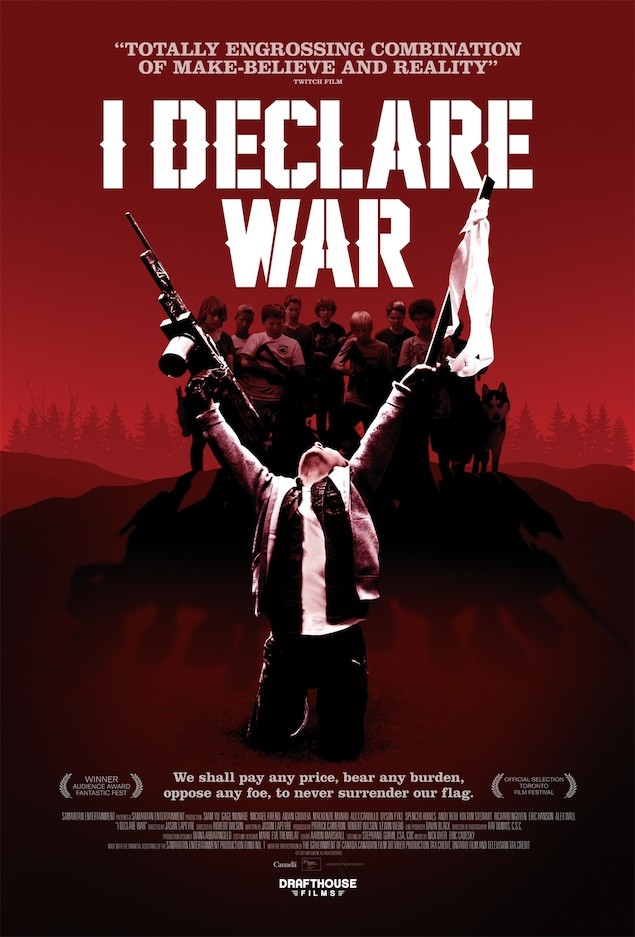 Here's the official synopsis:
Armed with nothing more than twigs, their imaginations and a simple setoff rules, a group of 12-year-olds engaged in a lively game of Capture the Flag in the neighborhood woods start dangerously blurring the lines between make-believe and reality. Rocks = Grenades. Trees = Control towers. Sticks = Submachine guns. The youthful innocence of the game gradually takes on a different tone as the quest for victory pushes the boundaries of friendship. The would-be warriors get a searing glimpse of humanity's dark side as their combat scenario takes them beyond the rules of the game and into an adventure where fantasy combat clashes with the real world.
I caught this flick at Fantastic Fest last year, and again this summer the Seattle International Film Festival. I can't sing its praises loudly enough. Seriously guys - see this movie. See the shit out of it. It's the kind of awesome coming of age story in the vein of STAND BY ME that we just aren't seeing enough of these days. About characters who are very much still kids, but who are taking the first steps into adulthood and learning the harsh and sometimes painful truths that come with the territory. It makes you laugh your ass off and pulls at all of your heartstrings. I can't recommend it enough.
I DECLARE WAR will appear on VOD on July 26th, and in theaters August 30th.
Follow me on Twitter